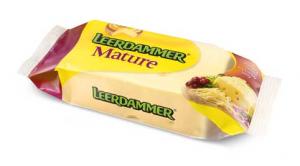 Quite a young cheese is Leerdammer. Not young as in 'not mature' but as in 'born in 1977' along with Punk Rock, spookily enough. Cees Boterkooper, who owned a small dairy in Schoonrewoerd, and Bastiaan Baars, who ran a nearby cheese shop were chatting one day and decided, as you do, to invent a new cheese to compete with the all-powerful Emmenthal.
And it did compete well, by employing crafty ideas such as making it in smaller sizes, the new cheese stole a lot of market share, particularly in France and Germany. Over here though, where we tend to view Dutch cheeses with some suspicion, it hasn't so far taken off in the same way.
This is a shame because, while not perhaps a cheese for the posh cheeseboard, Leerdammer has a lot going for it, particularly when used instead of cheddar in cooking. The Mature has less fat than cheddar making it less greasy when cooked, something cheddar is very proneto be, while Leerdammer Lightlife has a massive 50% less fat than standard cheddar.
A 'holey' semi-hard cow's milk cheese Leerdammer has previously come as thin-sliced in packs, another shrewd piece of marketing which ensures it ends up in a lot of European kids' lunch boxes. It also came as a whole round in delis.
Calling it 'rubbery', aside from the old Chinese restaurant joke, is unfair because that sounds pejorative. The texture is yielding and quite elastic, like uncooked Mozzarella. The taste is definitely up on rival Edam, which some people don't think has any taste at all. Leerdammer is smooth and creamy and with a rather nutty taste to it. You can tell why it has become such a growing brand and, not to harp on about kids too much, it definitely goes down well with them. An early taste of an adult cheese.
Always thinking ahead, the Leerdammers have now brought out the cheese in big blocks, which are ideal for cooking as they are easy to hold when grating. The new 225g block replaces the existing Leerdammer Original and Lightlife wedges. They have now also brought out a Mature version too, with extra punch and taste.
I tried it in my favourite cheesy dish, Cauliflower cheese and chips which I make so well I am surprised Heston hasn't been round to deconstruct it. The secret, by the way, is rubbing garlic around the dish before filling it. The Leerdammer grates beautifully, no crumbly bits falling away, and melts nicely in the sauce. The mature has enough flavour to allow you to use less too.
Leerdammer have created four good everyday family recipes for us, just a taste of what can be done And check out the new Leerdammer website www.leerdammer.co.uk
Pork and Apple burgers
Makes 6 burgers
Takes 15 minutes to prepare and 15 minutes to cook
1 crisp eating apple (Braeburns are ideal)
100g Leerdammer Original, grated
400g pork mince
1 small onion, peeled and finely diced
75g fresh white breadcrumbs
1 tsp salt
1/2 tsp ground black pepper
Small round pitas or burger buns to serve
These are a real winner. Great for a midweek meal or a barbecue. If you feel like a bit of extra cheese, top with a slice of Leerdammer when cooked too- it melts beautifully over the top for a final treat.
Grate the apple and Leerdammer coarsely and add to the pork with the onion, salt, pepper and breadcrumbs. Mix well together with your hands then shape into 6 burgers and flatten so they are not too thick. Grill or fry for 5 to 6 minutes on each side, until no longer pink in the centre. Allow to rest for 5 minutes before serving with burger buns or soft white pitas. Add salad and relishes to serve.
Cheesy chicken with ratatouille
Serves 4
Takes 10 minutes to prepare, 35 minutes to bak
1 jar good quality tomato and herb pasta sauce
1 courgette, sliced
4 skinless chicken breasts
1 red pepper deseeded and chopped
1tbsp olive oil
200g cherry tomatoes
100g Leerdammer Mature, grated
This is a delicious summery dish inspired by the Mediterranean. It goes well with pasta or you can just eat it alone for a lighter meal.
Set the oven at 180c / 160c fan oven / gas mark 4.
Pour the pasta sauce into a baking dish, add the courgette and red peppers and place the chicken breasts on top. Drizzle with a little olive oil and bake for 25 minutes until the chicken is almost cooked. Add the cherry tomatoes to the dish and sprinkle the cheese over the chicken. Return to the oven for a further 6 to 8 minutes until the cheese has melted and the tomatoes are cooked. Serve with cooked pasta.
Savoury Leerdammer bread and butter pudding
Serves 4
Takes 10 minutes to make; 15 minutes to bake
250g crusty white bread
15g butter
1 tbsp sunflower oil
1/2 medium onion, finely diced
1/2 leek finely sliced
100g frozen sweetcorn
100g small mushrooms, sliced
75g Leerdammer Mature cheese grated
4 eggs
400 ml milk
Salt and black pepper
This is a great, economical family supper. You can vary it by adding peas or for a meaty version try bacon, ham or sliced cooked sausages. Why not keep slices of leftover bread in the freezer ready to make this when there's not much else for supper!
Set the oven to 180c / 160c fan oven / gas mark 4.
Cut off the crusts from the bread, then cut the bread into 3cm chunks. Melt the butter with the oil in a small frying pan and fry the chopped onion for 3 to 4 minutes until tender. Add the leeks and fry for another minute or so. Add the sweetcorn and mushrooms to the pan and stir well for just a minute or so until the mushrooms are softened
Place a spoonful of the vegetable mixture into four individual xxml baking dishes; scatter over a little cheese then the bread, top with more vegetables and cheese so everything is tumbled together. Beat the eggs in a bowl and pour on the milk and season well. Pour over the bread mixture then bake for 15 minutes until set. Serve hot from the oven with a green salad.