George Bernard Shaw famously said that the USA and UK are 'two countries divided by a common language', thus earning himself a permanent place on quiz show question lists on both sides of the Atlantic.
Food and cooking is where perhaps we see it most and particularly in measurements. This shouldn't put us off exploring the cuisine of a country that didn't go multicultural overnight but which began that way with immigrants who came, and continue to come, from all over the world.
Carol Egbert paints and cooks in the Vermont village of Quechee and posts on her website www.carolegbert.com. She will be sending us a fresh recipe once a month.
Her dishes are simple to make, family friendly, tasty and often inspired by food from nearby farms and markets. Cakes and bakes feature strongly, food that make a kitchenwarm and a home even warmer.
Carol has translated most of her measurements into UK friendly ones for us and some of her descriptions too. We may still be divided by our common language,but hopefully with Carol's recipes we can move a bit closer on the food front.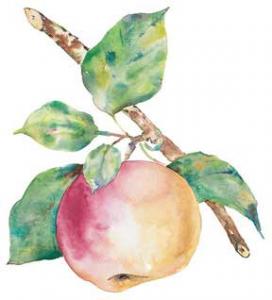 Last Saturday was cold and grey. It was a perfect day to work on the landscape painting waiting on the easel in my studio. When I saw our six-tree orchard in my painting I wished that there were apples on those dark, leafless branches. Our small orchard has been a source of apples at least since the 1940's when growing fruit and vegetables was a patriot effort. Luckily, I still had a few jars of sliced apples left from last autumn's preserving frenzy. I abandoned my studio and headed to the kitchen – I wanted a sweet reminder of that autumn day of apple picking. I pulled out the 1930 edition of the Chicago Daily News Cook Book that had belonged to my mother-in-law for inspiration.
In the Cakes and Cookies section I found a grease stained piece of brown paper with a handwritten recipe. Although, I had been thinking about making an apple pie, this very short recipe titled 'Crumb Cake with Fruit" was intriguing. It read, 'Use fingers to mix together one and a half cups flour, half a cup sugar, half a cup butter, and a pinch salt. Add spice. Save three-quarters cup of crumbs. Put rest into bottom of pan. Put sweetened fruit on top. Sprinkle rest of crumbs around. Bake until golden."
Pretty simple. But how big a pan, how long should it bake and at what temperature? I would have to fill in the details. Although it was called a cake, with four cups of fruit, it seemed more like a pie, so I decided to bake it at pie temperature – 220 degrees C.
As suggested, I used my fingers to combine 180 g of flour, 100 g of sugar, a pinch of salt, and 100 g of butter until the mixture looked like coarse sand. For the spice, I added half a teaspoon of ground cardamom.
I reserved 75 g of the crumbs and pressed the remainder into the bottom of a 22-cm/ 9 inch spring baking pan. I drained liquid from a pint jar of apples and arranged the apple slices on top of the crumb layer and sprinkled the reserved crumbs on to the fruit. If you don't have apples from your orchard preserved and waiting in jars, four crisp baking apples that have been cored, peeled, sliced and mixed with 50 g of sugar will do nicely.
I put the pan on a baking tin to catch any drips, put the cake in the oven and set the timer for 45 minutes and, hearing the oil paints calling, I headed back to my studio.
Five minutes later the house went dark and quiet. We had no electricity. It was too dark to paint and the cake was in an electric oven with no power. What to do? I decided to leave home for a few hours and deal with the cake later.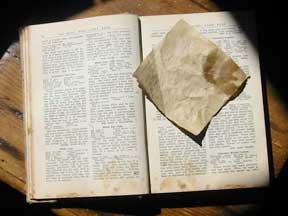 Soon after I returned, the electricity came on. I opened the cold oven and saw the pale, unbaked cake. Rather than declaring defeat, I turned the oven back on, set the timer for 45 minutes and waited. When the timer buzzed, the cake was golden brown, bubbling with juice, and the scent of apples and cardamom filled the kitchen. Amazing – a cake that's dependable even when the electricity isn't.
I don't recommend interrupting a baking cycle for four hours. I do, however, recommend this simple fruit cake. It is easier to make than a pie and requires no special equipment. Served warm, with a bit of ice cream it's perfect for dessert.
It can also serve as the centerpiece of a Yankee breakfast if you agree with this definition of a Yankee. To a foreigner, a Yankee is an American, to an American, a Yankee is a northerner, to a northerner, a Yankee is someone from New England, to a New Englander, a Yankee is someone from Vermont, and to a Vermonter, a Yankee is someone who eats apple pie for breakfast.
You're in for a treat whether you serve this cake as breakfast or dessert.