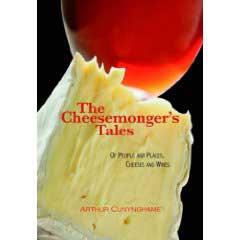 Did you hear about the tyro cheese maker in France who was so embarrassed by his early failures that he buried the terrible results under cover of darkness so that the neighbours wouldn't see and laugh at him?
Or that Cornish Yarg is actually the maker's name, Gray, spelt backwards? Or that the name Stilton came about because people like Daniel Defoe ate a nice cheese in the town and referred to it as 'that Stilton cheese'?
Arthur Cunynghame's book, 'A Cheesemonger's tales' is full of little snippets like that. This former Royal Warrant Holder, cheesemonger to the Queen and Prince of Wales, gently reminisces on 30 years of wandering around some of the best cheese making dairies in the world as well as some of the best vineyards too.
Arthur, like his name, is delightfully old fashioned and very British. His writing is calm, measured, gently ruminative but always very well-informed. It's somewhat reminiscent of the early Vet books of James Herriot; a measured pace and whimsical eye that encourages you to sit down in a comfy armchair, preferably with a plate of cheese and glass of wine close to hand.
And Arthur will help you choose both. As he reflects on visits to master cheese makers and winemakers, people who have chosen to go for quality above profit every time, he includes guides to matching cheeses and wines that are never hectoring, never bullying or dogmatic, but gentle opinions based on a well-trained palate and all those years of experience.
He offers guides on buying, what to look for in a cheese whether in the deli or the supermarket, how to keep cheeses, how to serve them, seasonal cheeseboard selections and of course the wines best served with them.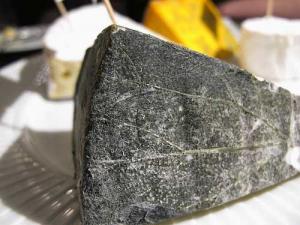 You even get a bit of travel writing and restaurant reviews, although I suspect many of the restaurants that Arthur mentions have long since changed or disappeared completely. His reviews are really rather fun, the sort of entry a 19th Century traveller might place in his journal 'Not a very nice starter but the wine was good'.
The real draw is the in-depth, but never overwrought descriptions, of cheeses and wines. Arthur has picked what are, and he stresses this, only in his opinion, the 12 of the finest cheeses and the people who make them, as well as 12 memorable wines. From the depths of the English countryside to high Alpine pastures, from Italy to Spain and above all around France, he chats to passionate people, sidetracks to discuss methods, delineates cheese types and, of course, nibbles cheese all the time.
This is a charming, authoritative read that makes you feel you know Arthur personally. With his lack of ego and warm friendly ways, Arthur makes you want to rush out and buy lots of cheese straightaway. And, of course, some wines to go with them.
Published by Loose Chippings Books
{ISBN:0955421705}