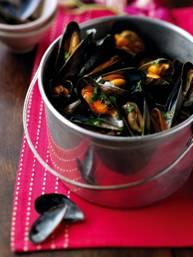 It's that time of year again when the lucky in love ponder how to spoil that special someone on February 14th. What better way to show someone you care than by whipping up a deliciously romantic home cooked meal? Light the candles, open a bottle of wine and follow these yummy healthy and balanced recipes from Clover (which has half the saturated fat of most butters*) to make a three course Valentines treat to remember.
Get things started by serving a steaming bowl of sensual Garlic and Wine Mussels with a chunk of warm crusty bread covered with a generous spreading of Clover. Eating this Parisian style starter with your hands will really set the romantic mood.
Keep the taste buds tantalised with a main course of Poached Salmon with Chilli Lemon Linguine. Chilli is a proven aphrodisiac meaning this Italian seafood pasta dish with a modern twist should really hot things up.
For the grand finale, sweep your loved one off their feet with a heavenly individual heart shaped Romantic Chocolate Brownie. Decorate these with a naughty squirt of fresh raspberry crème fraîche and it's sure to get your pulses racing!
At Clover, we think it's important to be healthy, but that shouldn't mean having to sacrifice the things we love. That's why we made Clover with half the saturated fat of most butters*, and churned it for that great taste. So this Valentines Day, why not say NO to extremes and join us in the middle.
*Clover contains 50% less saturated fat than 70% of butters (survey Oct 09)
Garlic and Wine Mussels
Serve in one big pot in the middle of the table and eat by hand – far more sensuous!
Preparation Time: 10 minutes
Cooking Time: 10 minutes
Serves: 2
1kg fresh mussels, washed, de-bearded and scrubbed
50g Clover
1 shallot, finely chopped
1 clove garlic, crushed
300ml dry white wine, or stock
3 tbsp fresh parsley, chopped
1. Melt the Clover in a large saucepan and cook the shallots and garlic, until soft and transparent.
2. Add the wine and seasonings and bring to the boil. Add the mussels all at once, cover and cook over a high heat, shaking the pan occasionally to ensure even cooking.
3. When all the mussels have opened (discard any that remain closed), transfer to a heated serving dish, reserving the liquid.
4. Return the liquid to the heat and boil rapidly until reduced by half, stir in the parsley and season to taste.
5. Pour the sauce over the mussels, before serving with plenty of crusty bread.
Poached Salmon with Chilli Lemon Linguine
If time is short use ready poached salmon available in most supermarkets.
Preparation Time: 5 minutes
Cooking Time: 20 minutes
Serves: 2
175 g uncooked linguine
1 tbsp Clover
1 shallot, finely chopped
2 garlic cloves, crushed
∏ red chilli, finely chopped
Juice of 2 lemons
50ml dry white wine
100ml stock
225 g salmon fillets, skin removed
1 small bunch parsley, finely chopped
Salt and freshly ground black pepper
1. Bring a large pan of salted water to the boil and add the linguine. Cook following pack's instructions or until the pasta is al dente (just tender but still has some 'bite'). Drain well.
2. While the pasta is cooking, heat the Clover in a large frying pan. Add the shallot, crushed garlic and chilli and cook for 1-2 minutes until softened. Do not allow to brown.
3. Add the lemon juice wine and stock. Cook over a medium heat for about 5 minutes to reduce the liquid a little.
4. Add the salmon and cook for 4 minutes. Turn over and cook for a further 3 minutes or until the salmon is cooked through and flakes easily. Break the salmon into bite size pieces.
5. Add the parsley and seasoning. Add the drained linguine and toss gently until well mixed. Serve immediately.
Romantic Chocolate Brownies
Using Clover instead of butter can help reduce your overall saturated fat intake in line with Food Standard Agency advice.
If you do not have heart shaped tins cook these in a rectangle tin and cut into heart shapes once cooled.
Preparation Time: 15 minutes
Cooking Time: 25 minutes
Serve: 2
70g Clover, plus extra for greasing
25g dark chocolate (no more than 50% cocoa solids), broken up
1 medium egg, lightly beaten
1/2 tsp vanilla extract
60g golden caster sugar
25g plain flour, sifted
1 level tbsp cocoa powder
1/2 tsp baking powder
6 tbsp half fat crème fraîche
150g fresh raspberries
Icing sugar
1. Preheat the oven to 180°C/fan160°C/ 350°F/ gas mark 4.
2. Grease and line the base of a heart shaped tin measuring about 9cm.
3. Put the Clover and chocolate in a large bowl over a pan of just-simmering water, making sure the bowl doesn't touch the water. Leave for 4-5 minutes to melt, remove from the heat and stir until smooth.
4. Add all the other ingredients to the bowl and mix well. Tip into the tin, levelling the surface. Bake for 25 minutes or until risen and firm around the edges but a little soft in the centre. Cool in the tin for 15 minutes. The brownie will continue to cook as it cools.
5. Mix together the crème fraîche and raspberries, lightly crushing the raspberries. Serve the cooled brownies with a serving of the raspberry crème fraîche.
Advertorial feature. To feature your products on site email us