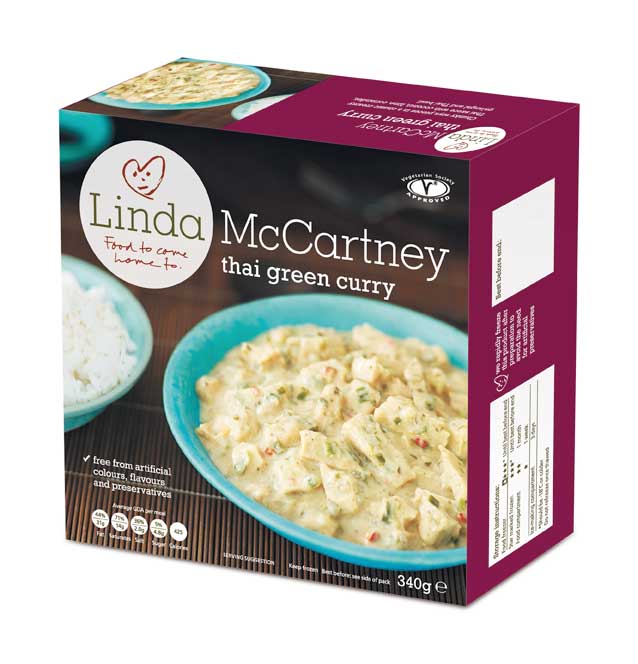 Continuing the success in 2008 with Linda McCartney Foods claiming the status of the fastest growing brand in the meat free market, the pioneering brand this year sets to launch a new range of contemporary dishes, a refreshed image and a renewed promise to deliver wholesome, tasty meat free food.
An innovator and creative free thinker, Linda McCartney was an inspiration in a world yet to fully appreciate or understand a vegetarian lifestyle. Linda's ethics still remain and are even more relevant and valuable now as consumers tighten their belts, are more health conscious and have become more aware of the environmental impact of mass meat production.
Linda's revolutionary cookbooks enabled people to have confidence, enthusiasm and know-how to prepare home-cooked vegetarian meals for all the family. The new dishes reflect our diverse society and love of exciting flavours and spices from around the world which have become staples of the British diet. Inspired by Linda's 'World of Vegetarian Cookery' recipe book, these new dishes add a fresh dimension to the brands' complete range of products.
As part of Linda McCartney's promise to deliver wholesome, tasty and nutritious food, the new dishes (and other popular dishes from the range) are 'free from' artificial colours, flavours and preservatives, as well as being a good source of fibre and protein necessary to maintain a healthy diet.
The Linda McCartney Thai Green Curry with traditional Thai spices, coriander, galangal and Thai basil, compliment the succulent soya chunks, lime and coconut. Serve this famous Asian dish with basmati rice and steamed bok choi for a truly fragrant and warming meal.
The Linda McCartney Balti Curry is the perfect healthy dish for curry connoisseurs and beginners alike. The dish contains two of the recommended '5 a day' with chunky soya pieces enveloped in a rich, spicy curry sauce, chana daal and sweet mango, and of course, Balti spices such as turmeric, garam masala, cumin, coriander and chilli. Serve with hot naam bread or wild rice and a yoghurt and mint sauce.
An authentic middle-eastern spicy dish perfect for wintry days is the Linda McCartney Moroccan Tagine. A combination of rich spicy flavours, sweet fruits, lemon and chickpeas with the soya chunks, the dish can be enjoyed with a mound of cous cous, freshly chopped flat leaf parsley and mint, and a squeeze of lemon juice.
The McCartney family take part in every step of the process in creating a new product for the Linda McCartney range; from the early stages of deciding the ingredients and tweaking recipes, to the style of the photography and packaging; and so it is with the revitalised image of Linda McCartney Foods. The refreshed image reflects the personal connection between its creator and the McCartney family continuing Linda's ethics and values.
Frozen foods lock in nutrients and help to reduce food waste as they last longer than fresh produce. These new products continue Linda's mission, with the complete support of the McCartney family, in promoting a meat-free lifestyle to ensure a healthy future for our planet.
Visit the website