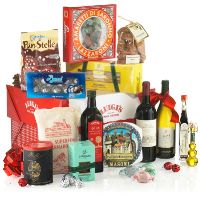 After-Christmas-return queues often fill up with people sheepishly returning their gifts, but one gift certain to never to land in the return basket is a food hamper. This year, Luigi's is jumping onto the global market bandwagon by opening their new mail order website. The popular Fulham Rd shop has created a range of hampers for every shopper's budget.
Christmas gift boxes to choose from include the "Food Fantasy Gift," bursting with wines, hazelnut chocolate, Luigi's own extraordinary olive oil, amaretti, the finest Italian coffee, panforte, and tomato sauce from Cipriani along with pasta. To complete the hamper, they've added truffle oil, cantuccini biscuits and all sorts of other goodies. The cost is £120.
Other gift boxes include "Christmas Morning" for £100 packed with everything from Foss Marai Prosecco, Italian coffee from Illy, a selection of authentic spreads, sweet Crème De Marrons, Pâté de Canard and layers of Proscuitto di Parma. Or why not treat yourself to an "Italian Cheese Board" for just £30 or Chocolate Lover for £40, filled with a decadent selection of Luigi's favourite chocolate treats.
Luigi has spent a lifetime sourcing cured hams, cheeses, wines and other essentials for a well-stocked kitchen. Delivery is free for orders over £50 locally, and free for any UK address for orders of £100 or more. To order check out www.luigismailorder.com