These days there's always someone at the Christmas party or table who isn't drinking the hard stuff, so why not have a few bottles of Luscombe organics in the fridge to show your guests you care. With a range that includes Hot Ginger Beer, Wild Elderflower Bubbly and Cranberry Crush, these drinks are free from alcohol and is a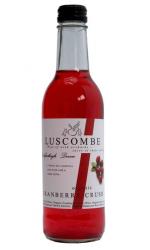 sophisticated aletrnative for grown-ups.
Like all Luscombe drinks, they are natural and untouched. Made without additives, colourings, flavourings concentrates, enhancers or preservatives of any kind, each drink is very gently pasteurised in-bottle to preserve the delicate character of the fruit.
Sold at independent retailers nationwide, leading department stores including Harvey Nichols, Fortnum & Mason and Harrods, and online at http://abelandcole.co.uk and http://riverford.co.uk . Luscombe Drinks are priced from £1.50.