Tired of city life and craving the rugged wilds of bonnie Scotland? Next week, purveyors of that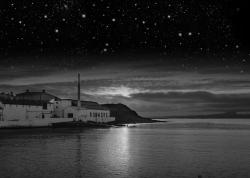 top-drawer dram, Bowmore, will host an interactive event promising to transport guests to a galaxy far, far away… well, the island of Islay, found off the West coast and home to Bowmore's distillery.
From April 25th, for two nights only, whisky fans will discover a unique 'immersive experience' set in an East End townhouse. Myths and legends as intoxicating as the strongest liquor will bring Bowmore to life- exploring the sensory elements of darkness and drawing parallels with the brand's own 15 Years Old 'Darkest' variety.
Stargazers, chocoholics and luvvies alike will find something to tickle their fancy- with Paul A Young, the Kielder Forest Star Camp Observatory and Gideon Reeling, self-styled 'purveyor of bespoke theatrical interactive experiences', all in residence.
Roaming around the Dickensian house, you'll collect a series of keys in order to continue the journey- culminating in the unlocking of the legendary Number 1 Vaults. All that interactivity may well get the gastric juices flowing- and here, grumbling bellies will be sated with whisky-laced fodder provided by Hidden Dining. All to the lyrical stylings of traditional sea shanties.
Tickets are being released piecemeal- so don't be deterred by a 'sold out' message. It's all part of the magic…
'Magic Happens on the Darkest Nights', 4 Princelet St, E1 6QH, 7.30pm, 25th and 26th April, £15
For tickets visit www.wegottickets.com
For a teaser video of what to expect, visit http://www.youtube.com/user/Bowmoredistillers