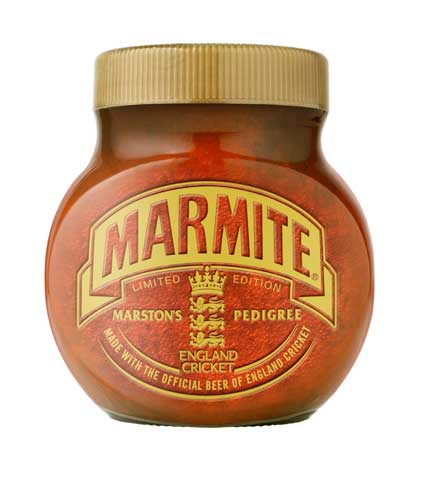 Cricket and beer are as synonymous with Englishness as a slice of toast with butter and Marmite.
That's why in 2009, as the Aussies come to Blighty to contest the Ashes on home turf, the makers of Marmite have teamed up with Marston's Pedigree, the official beer of England cricket, to create the cricket season's limited edition – a cricket ball jar made with the addition of Marston's Pedigree yeast – a new blend sure to bowl fans over.
The new limited edition of only 500,000 jars will be a Marmite made with yeast with the unique brewing process used to create Marston's Pedigree in Burton-upon-Trent. Providing a special twist to that most hated and loved of flavours, the unique recipe is sure to spur on the lads this summer and leave the Vegemite-munching Aussies out for a duck!
Watching the match with the lads wouldn't be complete without the traditionally British tea-break of sandwiches and lashings of Marmite with a pint of Marston's Pedigree. So pick up a limited edition 'cricket' jar and gear up for a summer spurring on Straussy, 'Freddie' Flintoff, KP and the rest of the boys to strike for success this summer.
Marston's Pedigree Marmite costs £3.49 (RRP), is alcohol free and will be available from June at most stores nationwide including Tesco, Sainsbury's, Waitrose & Morrison's just in time for the cricket madness. So, go and pledge your support to an England victory in the npower Ashes Series!
'Cricket is like Marmite, entirely eccentric; wholly British and something the rest of the World will never truly understand" Dickie Bird.
Tasting Notes
This is a sensuous dark brew which allows Pedigree's natural ingredients to shine through: the softness and delicacy of its 'free-range' yeasts; the smoky, mellow complexity of the oak barrels in which it is matured; the floral orange flavours of its Goldings and Fuggles hops; and the chewy caramel sweetness of its Maris Otter barley malts. Subtle, complex and with a long, spicy finish, this is a truly English affair. Every Marmite and beer lover's dream. Rupert Ponsonby, The Beer Academy.