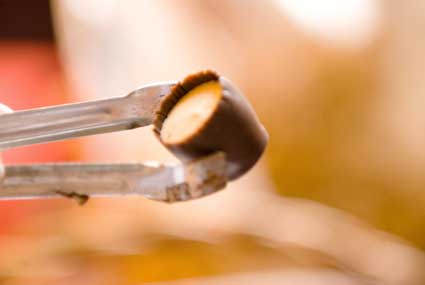 On Tuesday 2 & Wednesday 3 June, Borough Market – A Taste of Spain 2009 showcases the wonderful and diverse flavours and tastes of Spain, at London's oldest food market. From 11.30am to 8.30pm on both days; twelve Spanish regions, food producers, suppliers, winemakers and London's leading Spanish restaurants will present Spain on a plate.
At the authentic Spanish market, visitors are invited to wander from stand to stand to taste regional specialities – cheeses, meats, wines and more gourmet delights – and discover more about the variety of Spanish cuisine and ingredients.
– Andalucía will have the finest cured Ibérico ham, cold meats, wines and Jerez brandy
– try traditional cheeses and homemade stuffed meats from Asturias
– spicy pork sausage, Ternasco (baby lamb), Boliches (Aragonese white beans) and fine wines from Aragón
– at Valencia's stall sample wines and regional products including Horchata (typical sweet drink) and Turrón (nougat confection) and on Wednesday a feast for the crowds: a giant Valencian paella…
– Catalunya are bringing cava, olive oil and some delicious desserts to taste
– papas arrugadas with mojo sauce is a regional potato dish from the Canary Islands and will be available to try at Lanzarote and Fuerteventura's stalls. Tenerife will have local cheeses, traditional cakes and homemade honey
– sobrasada (spicy sausage), ensaimada (pastry) and Mahón cheese are just a few of the specialist products that the Balearic Islands will have on their stand
– Murcia will have a variety of fruits, vegetables, nuts, cured meats and virgin olive oil
– homemade jams, chocolate prickly pears, olives and pates from Extremadura
– at the Madrid stall taste local olive oil and their best wines
– to discover the taste of Galicia head to the Flavours of Spain stall
– Ibérica will have Spanish omelette, Ibérico cold meats and traditional tapas to sample
– At the Andalusian Fresh Produce stall taste melons, cherry tomatoes, aubergines and grapes
– Spanish sauces and condiments, wines, meats and cheeses will all be available at the Barcelona Tapas y Restaurante stand
– for a typically Spanish snack, drop by the Churros Bros. van
– Campo Viejo will be bringing a selection of their top wines
– and… La Boquería, Barcelona's famous food market, returns to showcase its finest products
– Edeli import exclusive Spanish foods and will have some delicious deli products – olive oil, marrons in brandy, habas beans – and wines to taste and also to buy
– Tuna with piquillo peppers and anchovies are just some of the products Cantabria Verde are bringing to highlight the rich, natural flavours of the region
– Pop to the Spanish Tourist Office stand and try cheeses from Castilla y León
Top Spanish chefs – from London's restaurants and Spain's regions, including a Michelin starred chef from Aragon – will cook up a storm on both days and show budding gourmets how to cook traditional and modern dishes in their own homes… all the food will be given away for tasting. And on Wednesday afternoon, Valencian chefs will prepare a giant paella which will be ready to feed the hungry hordes free of charge from 5pm.
London's Spanish market will all be set to a backdrop of live music… For more details visit www.tastespain.info
Free vouchers!
In addition to London's Spanish market, there will be mouth-watering offers at London's leading Spanish restaurants running from Friday 29 May to Sunday 8 June. Restaurant offers are only valid on presentation of coupons and cannot be used in conjunction with any other offers. To print the coupons visit www.tastespain.info/vouchers
Borough Market – A Taste of Spain is supported by the Spanish Tourist Office.
For a comprehensive programme, list of participants and further details visit www.tastespain.info