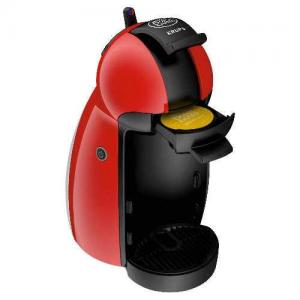 We've had a lot of coffee makers in the office this year and not all have been interns. Some we have plugged into the electricity socket to see what would happen. In the case of the interns it was a lawsuit, but the machines weren't so fussy.
The last one we tried this year was the Nescafe Dolce Gusto. If the Nespresso is the George Clooney of coffee machines, the Dolce Gusto Piccolo is his younger, racier, brother The model we tried was so cute we wanted to take it home and put it next to the fire. So small it could fit in the tiniest corner of any kitchen it rather resembles a robot dog, the Gusto (as we came to affectionately call it) performs brilliantly.
What makes the Gusto so goodo is the fact that it also delivers the milk from a cartridge of dried milk. This makes it self-contained and no need for a fridge or, in our case, a cold window ledge in approved student-stylee.
It's simple to set up, as usual the hardest part is separating machine from the layers and layers of packaging. The instructions are pictorial mostly, with captions in all known languages except the click language of the Xhosa, and are a bit opaque in places but trial and error wins the day.
The thing that makes a coffee machine good or bad is ultimately the pressure with which it forces the water through the capsule. The Piccolo delivers 15 bar pressure, which is impressive for such a little chap.
There are 18 drink varieties available in the different capsules and we loved the Cappucino. You run the machine once with the coffee capsule then again with the creamer. The whole process is almost instant and the result excellent. The capsules are generally available, even our Tesco Metro in Soho had some, although unfortunately no decaff. We were a bit doubtful about what was in the cream capsules though, we suspected perhaps a lot of sweetener which may not be to everyone's taste.
The only real downside we found is the machine's tiny water reservoir, which is of course inevitable with a small machine. For an office environment there are larger Gustos available, but as a machine for a design conscious, coffee loving couple, the Piccolo is just about perfect.