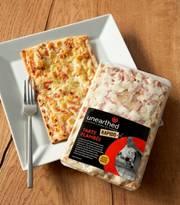 Unearthed has added to its growing range of Continental sharing foods with two new products to complement the existing range.
The stuffed sweet cherry peppers with ricotta are produced in France and are oil free, providing the perfect mess-free snack.
The tarte flambée is another new product which also originates from France and is a smoky ham and cheese savoury delight to add to a meal or have as a quick and easy bite.
The new products extend the range which includes Mediterranean meats, olives, feta and cooking sausages as well as Italian panettone,
which are the perfect finger food to share with friends and family.
unearthed products are currently available from Waitrose supermarkets, Ocado and Abel & Cole.