Sweet Things, the award winning Primrose Hill Cakery is launching a new range of Baby Loaf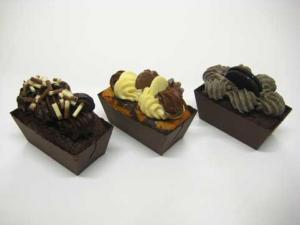 Cakes at Selfridges and Fortnum and Mason. Ideal for two people to share, the Baby Loaf cakes are priced at only £2.95 each.
Sweet Things Baby Loaf cakes have a moist sponge base, just like the traditional loaf cakes and come in a selection of 6 classic flavours:
Chocolate, made with finest Belgian chocolate and topped with chocolate buttercream
Vanilla, topped with Madagascan vanilla buttercream,
Carrot, with cream cheese icing,
Oreo Cookie cake with a Belgian chocolate sponge, baked with pieces of oreo and topped with oreo cookie buttercream
Banana and Dulce de leche – a vanilla cake filled with fresh banana (and raisins), topped with vanilla buttercream and drizzled with dulce de leche
Traditional Marble cake, with a chocolate and vanilla sponge topped with vanilla and chocolate buttercream
Weighing at around 150g, these cakes are just the right size for two people to have after dinner or with afternoon tea. Natalie Allen, owner of Sweet Things came up with this idea as most cakes are either too small or too large to share with a friend or a loved one. Freshly baked daily at the Sweet Things Cakery, the Baby Loaf cakes are available to buy now at Selfridges on Oxford Street, at Fortnum and Mason and from the Sweet Things Cakery – 020 7722 2107
Natalie and her team will be adding more flavours to the range and creating specially decorated Baby Loaf cakes for Valentines and Easter this year.
The Cakery, 3 Primrose Hill Workshops, Oppidans Road, London NW3 3AG