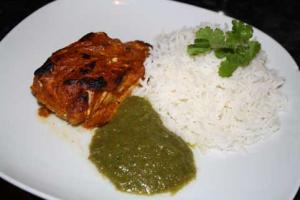 It is week 3 of my healthy eating recipe series and I am pleased to say I have been sticking to eating sensibly (can I just say that I count good quality chocolate as 'sensible') and have been getting creative in the kitchen again to bring you something tasty, easy and incredibly healthy.
Now, we all love Indian food and it has to be said, that unless you are heading to some swanky Indian restaurant, the chances of good quality, healthy food are slim to none. That's no reason to miss out on your favourite dishes is it? Here is a quick and simple take on Tandoori, that can be grilled or done in the oven. To accompany the salmon is a refreshing coriander and tomato chutney which is delicious and coriander is great for digestion and lowering cholesterol. Very pukka indeed.
Serves 2
Ingredients
2 salmon fillets (skinless)
150g tub of '0% fat' Total Greek yoghurt
1 heaped tablespoon of Pataks 'Rogan Josh' paste
1 small bunch of coriander (washed, with stalks in tact)
2 garlic cloves
3 medium sized tomatoes (skinned as best as possible)
Juice of half a lime
Pinch of salt
Teaspoon of water
Non-stick oven paper
Method
In an deal world, you would allow an hour for your salmon to marinate properly, but the world is far from ideal and so I made sure that when I tested this recipe, I coated the salmon in the marinade and cooked it straight away.
Preheat your oven to 250 degrees (full whack) or if you prefer to use a grill, then turn your grill on high. In a bowl, mix your curry paste into the yoghurt and stir well with a fork to ensure it is completely mixed in and then add your salmon pieces into the bowl and give them a generous and even coating of the marinade and then place on a baking tray lined with non-stick oven paper. If you are using your oven, you will need to cook your fish for about 12 mins but if you are using a grill then 8 minutes should suffice.
Whilst your salmon is cooking, using a processor or hand-blender, blend your garlic, coriander, tomato flesh, lime juice and water until a smooth.
Remove your salmon from the oven and serve with either basmati rice or naan bread and your delicious fresh chutney on the side.