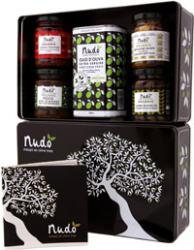 Looking for a gift for someone who is into food and cooking? Stuck for a gift that's a little different?
This Christmas, you could treat that someone special to a little piece of the Italian countryside, by adopting an olive tree with Italian olive oil producers Nudo. Yes, you have the chance to give, or to own yourself (albeit for just one year) a little part of Italy, approximately 3m by 3m, with an olive tree in the middle!
The Nudo olive groves are in the foothills of the Italian Apennines in the central coastal region of Marche. From here foodies from all over the world can adopt a tree in the grove and be sent their tree's entire produce for a whole year. Imagine dunking bread in the oil from your own olive tree 1500 miles away on an Italian hillside. Adopting an Italian olive tree costs £65 plus p&p from the Nudo web site, the link for which is below. For this the adoptive parent receives a gift that keeps on giving throughout the year – all their tree's extra virgin olive oil in the Spring, and a trio of Nudo's finest flavoured olive oils in the Autumn. The owner would also be welcome to visit their tree, to water it, or even hug it – if they felt so inclined.
Alternatively you could give that someone special the Nudo Organic Essentials gift box. This not only gives them their own adoptive olive tree for a year and all the benefits that go along with that, the attractive box also contains a 500ml tin of organic olive oil, a 120g jar of capers, a 120g jar of artichoke hearts and a 200g jar of sundried tomatoes, all organic and preserved in Nudo olive oil, the box also contains a 200g jar of organic pesto with almonds. At £69.99 plus p&p this is a remarkably good deal.
Nudo boast of their commitment to provenance and high quality Italian produce, which does not end with olive oil. In association with other local artisans they have developed a selection of organic products in a range of high quality antipasti, sweet condiments and pasta.
This Christmas, Nudo has produced a range of hampers, designed to appeal to a wide range of food lovers. Apart from Organic Essentials, the range comprises the Artisan Selection, Chilli Lover and the Nudo Bumper Hamper. Their contents include flavoured olive oils, pestos with almonds, sundried tomatoes, artichoke hearts and various forms of pasta. We have tried the organic extra virgin olive oil, which is included in the Organic Essentials box and it has a lovely fine, light but fruity flavour that would be great to drizzle on salads or to just dunk some good bread in! It is an excellent product.
Why not check out the Nudo range of gift boxes and products at www.nudo-italia.com ? It could be the answer to one or more of your Christmas gift worries.