'People are always ashamed to admit they use their leftovers in curries,' Anjali Pathak declares in her broad Northern accent, 'But that's what Indian families do. Whatever's around, you throw in a few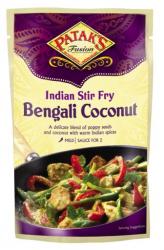 spices and turn it into something tasty- nothing's wasted'.
Hopefully the notion is one which won't be wasted on the British public, either- especially when we're all in dire need of a cheap yet fulfilling feed. Family brand Patak's are pushing people to get more creative in the kitchen, launching a range of regionally-inspired stir-fry sachets designed to be used pretty much however you please.
Anjali's squidging a sachet of Goan Hot & Sour sauce into a pan of Indian-style egg-fried rice, simply allowing it to get piping hot before whacking in a generous handful of coriander, She reckons it's great as a wake-up call, conceding that spicy rice might not be quite what some people would constitute suitable daybreak fodder. But c'mon- from sickly glazed donuts to huevos rancheros, pretty much anything goes these days- why not this?
If you can't quite reconcile the notion of opting for curry over Cornflakes, the pungent masala of vinegar-spiked cinnamon and cloves suits seafood spectacularly. Indeed, the recipe is inspired by prawn balchao- a classic Goan pickle preparation. The wonderfully bland, creamy flavour of paneer works a treat, too- just don't use that polystyrene stuff, please.
The other side of the country, the Eastern technique of using white poppy seeds as a thickener means the Bengali coconut sauce scores remarkably well, paradoxically, on both nutritional value and creaminess. Anjali's paired this one with tiny roasted potatoes- suggesting that, for a drier result, you just cook the dish for longer. Fans of Thai food would enjoy this one- indeed, another suggestion of a prawn stir-fry hints at a Southeast Asian influence on the East coast.
Achari pickling spices are popular in the Punjab- and have been picked up by Patak's in the Punjabi 5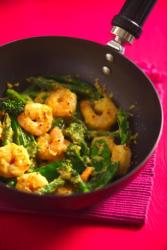 Spice sauce. Paanch phoran, that delicious quintet of nigella, fennel, mustard seed, cumin and fennel lifts a tomato-and-cream base. Lending a tangy bite to tender lamb or fried up with juicy, sweet chicken, it packs a 'paanch' indeed. Those Punjabis do like their meat, but this one pppicks up peppers pretty nicely, too.
Anjali isn't worried about fusion confusion, either- just firmly focused on expediency, value, and most importantly, taste. To put it simply- there's no doubting the Patak's brand's integrity when it comes to the authenticity of their recipes, but there's absolutely no harm in slipping a bit of Pancetta into your proper Punjabi 5 Spice should the urge strike. Personally, I might have to class you as a bit of a wrong-'un, but each to their own.
And that, friends, is the message we take away. Indian food isn't to be feared, or overly revered. It's a huge cuisine worth endless exploration, that should be deliciously accessible whether you hail from Toxteth or Trivandrum; have five minutes or five hours; can barely boil an egg or have a Michelin star; are broke or benefit from a bumper bonus. Patak's claim to be 'Why Britain Loves Curry'. Go on, feel the love.

For further information on Patak's, including the new range of stir-fry sauces, visit www.pataks.co.uk