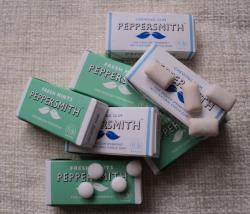 UK company Peppersmith, have been working to produce a mint unlike others on the market. Peppersmith mints are made with English peppermint and spearmint, farmed in Hampshire and contain no aspartame, artificial colours, flavours or preservatives and unlike most of their high street competitors, they are proven to be good for your teeth.
The British Dental Health Foundation have fully accredited Peppersmith gum and mints, and have approved the claims that these products help reduce plaque and the risk of tooth decay. Sugar-free, the mints are sweetened with Xylitol, a natural wood sugar from beech trees. The Peppersmith range consists of three products; their fine English peppermint gum, the fine English spearmint gum and the fine English peppermint Fresh Mints. All three have an RRP of £1.49 for a 15g pack.
We tried the Peppersmith English peppermints and the spearmint gum. The Fresh Mints have a good strong peppermint flavour that radiates through the mouth and when finished leaves your mouth fresh, without that lingering taste that some artificial sweeteners leave. The chewing gum, which uses a natural chicle gum base, sustainably sourced from the rainforests of Central America, is equally potent in its spearmint flavour. They freshen your mouth as you chew and retain the spearmint flavour for a surprisingly good length of time. The box also promotes responsible disposal providing you with a pack of papers for wrapping the gum once you have finished with it.
So if you are looking for a mint that that is fresh and clean tasting and good for your teeth, check them out.
You can find Peppersmith products at Whole Foods markets and Selfridges. For more information about their products and availability, go to the Peppersmith site