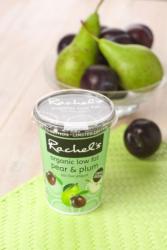 I was a yogurt baby. From my infancy, I happily downed it by the bucketload. Early photos show a chubby, mustard-yellow clad toddler strapped into a highchair, clutching a half-litre of the white stuff with a smug, yogurt-eating grin smeared clear across my face, looking thoroughly pleased with my lot.
Not much has changed. Although nowadays I manage to get more of it in my mouth. And dress in slightly less obnoxious hues. So when a huge, foam peanut-filled box delivered to my door yielded half-a-dozen of Rachel's Organic's finest flavours, I was in my element.
Yogurt needs to be eaten very, very cold. So there's a lingering hiatus in which I wait impatiently to rip 'em open and lick the lids (a treat equal, if not superior to, the top-of-the-milk). I also discover 101 uses for foam peanuts, and toy with the idea of pitching a book on said topic.
But at last the tubs are primed just above freezing point. Greek-style Honey and Coconut varieties deliver rich, thick yogurt with a surely-can't-be-good-for-you creaminess. The flavours do exactly what they say on the label- true, too, of Raspberry, Rhubarb and the limited edition Pear & Plum and Apple & Elderflower pots. And better yet, all the fruity beauties are low-fat- which, as any fule no, means you can scoff double the amount.
These can go way beyond pot-to-gob territory, though- I knock up an Indian feast with the Coconut- dolloping it into Pat Chapman's mutton korma recipe and blitzing it into a South Indian-style coriander chutney. Rhubarb goes into a dressing spiked with ginger vinegar, cutting the richness of roast pork or mackerel.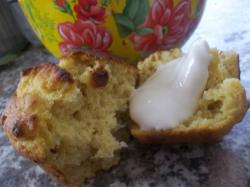 The Honey one goes into an eccentric yogurt fudge recipe I've had earmarked for testing- to splendid, molasses-rich effect- and also forms the base of a Middle-Eastern dipping sauce with dates and ground coriander. Raspberry finds its way into a batch of cornmeal muffins and a Chai-spiced cake.
In fact, cakes are a bit of a theme- Rhubarb stands in for buttermilk in a gingerbread, whilst Pear & Plum meets jam and marzipan in an upside-down affair. Apple & Elderflower bakes up in a loaf with pistachios and lime zest, and finds a cosy home in a tart with sour cherries.
So, in short, it all went down a treat. And not just with me- my family, the neighbours and the staff at my local library would all like to extend their thanks to the kind folk at Rachel's for a quite simply stellar range. To add to that, I'd like to say thanks for throwing in the foam peanuts that will surely see me en route to my first million. That should keep me in yogurt for a while.
Rachel's Organic yogurt range- including limited edition Pear & Plum and Apple & Elderflower varieties- are widely available. For more on Rachel's Organic range, visit www.rachelsorganic.co.uk