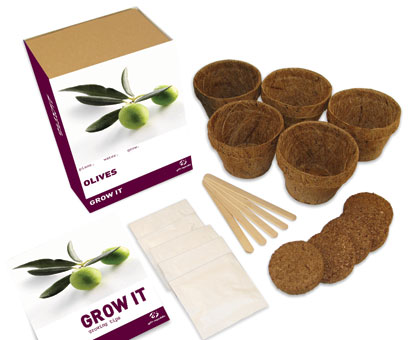 It seems everyone is worried about what chemicals are used in our foods and what is put in to help make our fruit and plants grow so fast. The only way around this is to buy Organic but, as we are all aware, the credit crunch is making this hard for all of us. Well, what if you watched some of your favourite foods and plants grow yourself? Prezzybox.com has the answer!
Prezzybox.com is proud to introduce the Grow It Kit range. The range comprises of plants, herbs and spices.
Why not get in the garden this summer and plant your very own Sunflowers? These are low maintenance and great to introduce children to gardening. The Grow It – Bonsai Tree allows you to grow a range of different types of trees and green fingers aren't needed to create these stunning miniature trees in your own home.
Why not help the environment with the latest addition to the grow it range, the Grow It – Carnivorous. Don't use fly sprays this summer, be natural and environmentally friendly! Grow the Venus Fly Trap and the Pitcher Plant to banish those flies.
How about growing your own herbs in your kitchen ready to pick fresh while you're cooking? The Grow It Herbs will be great by the window and include Basil, Parsley, Thyme, Chive and Rosemary. And to add a little spice to your meals, use fresh chilli's from the Grow It Chilli plants! The box is crammed full of favour including Tabasco Chilli seeds, Tepin Chilli seeds, Hungarian Hot Wax Chilli, Jalapeno Chilli and Anaheim Chilli seeds. But why stop there? Add Olives to your kitchen with the new addition to the range. Grow it Olives bring the Mediterranean sunshine to your kitchen this summer!
Find out more at www.Prezzybox.com