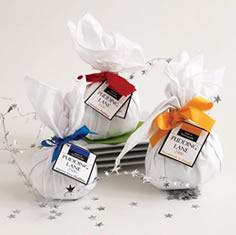 There's something a bit wrong with testing Xmas Pud when it's not Xmas day. It's like eating a roast dinner on a Wednesday, it's something shameful, something you should only do with the curtains closed in case anyone might see you and call the police
Things could be worse though. If I worked on a print magazine I'd be eating it in July with the sun blasting down outside. As web sites have shorter lead times I can at least eat my pud with some kind of festive atmosphere about the place.
Of course in Australia they are used to eating Xmas dinner in blinding heat and sat on the beach. So this pud, being itself Australian, should be interesting.
In my family we have always made our own puddings. It was worth it to see Gran choke on the sixpenny piece each year. Actually it must have been the same sixpenny piece, as they all disappeared with decimalisation. I hope it got a good wash between outings.
However we all lead busy lives these days, as we are constantly told, and making a pud is not always possible. And with Heston's Waitrose Pudding appearing on ebay at £300 the search is on for an alternative.
Pudding Lane puds come in all shapes and sizes. We got a log to try and whilst it doesn't pass the traditional shape test, it still had a lot going for it.
It's hand-made to a traditional family recipe with fruits, free range eggs, butter and breadcrumbs and matured in Oak Australian Brandy from the Barossa Valley making it a naughty 4% alcohol by volume.
The pud is then hand-weighed and shaped, boiled in a calico cloth in the traditional way in gas-fired coppers, hung on a line to dry, age and mature. Its then hand-wrapped in cloth, tied with a ribbon and sent off to the shops or in this case the airport.
It has no artificial what nots and weighs an impressive kilo. After a short boiling, or you could microwave in a lot less time, it came out nicely steamy and with a strong Xmasy aroma. The log shape may not be all that traditional but it made it very easy to portion up and we tried it with brandy butter as well as with cream and custard.
Quite delicious all ways, and easy to see why they won Great Taste Awards.
You can get the pud that's up from down under at www.puddinglane.uk.com