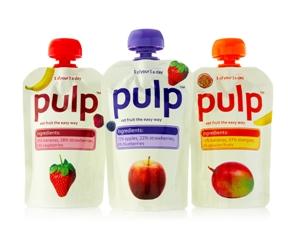 According to statistics, some 73% of people do not eat enough fruit each day. This sobering statistic inspired the people behind new company Pulp Fruits to develop an innovative way of eating fruit – handy pouches of thick blended fruits. Pulp is a great product, especially for busy people who are always on the go, as it is easy to eat straight from a pouch, that would slip easily into your pocket, case, or handbag. We are told that each 115g pouch contains one portion of your 'five a day' and what's more, has fewer than 80 calories, so those calorie counters among us can rest assured that they are eating something that is not only good for them but is not going to take up huge chunks of their daily allowance.
Pulp is available in three flavour blends, each containing three fruits: Strawberry, Raspberry and Banana; Banana, Mango and Passion Fruit, or Apple, Strawberry and Blueberry. Having tried all three, we can say that the lead fruit flavour hits your taste buds initially, with notes of the other fruits coming through as an aftertaste on your palate. These products are made with 100% fruit pulp and contain no added water, juice or sugars. Their contents are pictured on the front of the individual pouch so you know what you are eating. They are a great way to get a fresh tasting fruit hit anywhere without the need to incur the mess of preparing it for yourself, or to use utensils, as you can drink them straight from the pouch.
Pulp is a good product for those of us who feel a little guilty that we are not giving our bodies the 'five a day' that we should. They do not need to be refrigerated so are convenient to keep in the office, or to carry and eat on the train, tube or bus on your way to work or, indeed, to stop that gap on your way home as an alternative to that indulgent chocolate bar. A healthy snack at practically any time of the day.
Pulp pouches are available from Ocado at £1.29, also at Harvey Nichols, Wholefoods as well as selected sandwich and deli stores. For more information about these products go to www.pulpfruits.co.uk