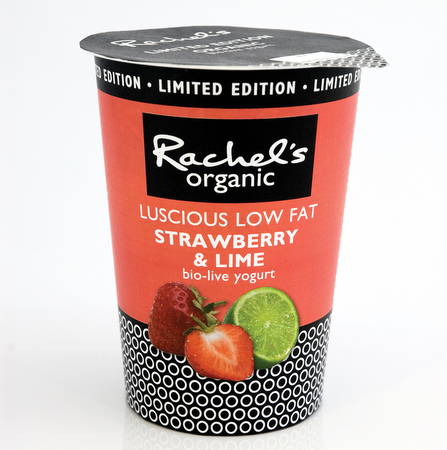 Ring in the new! Rachel's Organic, Britain's leading organic dairy, has introduced a new yogurt variety available in Waitrose stores from early January. Simply made using the finest organic strawberries, a zingy squeeze of lime juice and the very best pasteurised organic milk, at less than 2% fat this delicious yogurt really is the perfect way to kick start your New Year!
Enjoyed on its own, as a fruity accompaniment to cereals and desserts, or as a tasty base for home-made smoothies, the new Strawberry & Lime flavour is a welcome addition to Rachel's best selling Luscious Low Fat yogurt range. But hurry, this Limited Edition yogurt is set to be every bit as popular as the rest – so be sure to catch it while you can!
Like all Rachel's Organic yogurts, this new variety is made with fresh milk from cows that graze on organic pastures rich in clover plus pure, natural ingredients to ensure it tastes great…naturally.
What's more, the new Strawberry & Lime yogurt provides an important source of calcium and natural vitamins as well as the health-giving bio-live cultures associated with maintaining a healthy digestive system.
Exclusively available from Waitrose stores nationwide priced at around £1.56 for a 450g pot.