Ac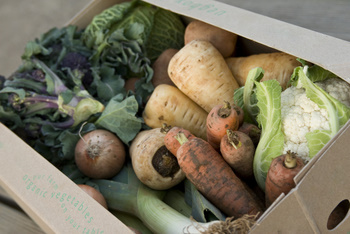 cording to bellybytes.com, frost improves the taste of parsnips and some other root vegetables because the cold weather turns a lot of the starch into sugar. So why not sign up for a fortnightly delivery of vegetables when some of your favorite roots are at their best? Starting in January Riverford Organic Vegetables, will offer a "roots and greens' box, aimed at thrifty cooks, to help families eat well through the credit crunch.
At £11.95, the roots and greens box will contain staple seasonal vegetables with a good shelf life. A fortnightly delivery is a great choice for a family on a budget. Contents change every week but customers can look forward to generous portions of organic potatoes, carrots, onions, another root veg, two leafy veg and a 'mystery' veg depending on what is best in the fields.
The launch of the new box coincides with Riverford's 'Cooking in: the new eating out' campaign, which aims to encourage home cooking in 2009. The organic farm believes that cooking at home with a veg box helps you spend more time with your family and less money on your shopping (Riverford's veg is around 20% cheaper than the supermarket equivalent in a recent comparison).
"Eating out can be expensive and buying the same things every week from the supermarket can get boring," says Guy Watson, Riverford founder. "We want to spread the word that for 2009, cooking in is the new eating out. Getting in the kitchen to make your own meals is a very simple way to save money. Our new roots and greens box will help you do exactly that."
To help customers kick start the new year with home cooking, the organic farm is offering a free Riverford Farm Cook Book for new customers with their 4th veg box. Order online at www.riverford.co.uk/