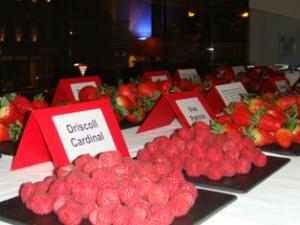 We were invited to Ibèrica in Great Portland Street to learn more about berries, and to try some tapas using fresh strawberries and raspberries from Spain.
The evening started with a glass of cava, and the chance to talk to various people with an interest in the subject, before receiving a brief talk from television presenter and columnist Doctor Christian Jessen. He spoke about the merits of raspberries, strawberries and blueberries, and gave some interesting facts, many of which came as news to us: for example, seven strawberries contain the full recommended daily allowance of Vitamin C, which is the same as 413 grapes, or five and a half bananas. There was much more information about the health benefits of berries on the website www.seasonalberries.co.uk than we can give here, so its worth checking out.
After hearing about these remarkable fruits, it was time to taste some tapas, specially created by Ibèrica Head Chef Santiago Guerrero, all using Spanish raspberries and strawberries. Not necessarily an easy task, given that these fruits aren't renowned for pairing with meat and fish – but we had open minds, and as they arrived, we found that there were some superb combinations to be tasted. Gazpacho finished with strawberry had good depth of flavour, with a soft fruity note at the end, and was deliciously refreshing. A mini salad of endive with prawn and respberry was another winning dish, fresh, with the berry flavour adding a pleasant tang. Air dried beef loin was a curl of juicy meat on a skewer, finished with a strawberry: the idea of this was challenging, but the dish was superb, the flavours marrying surprisingly well. There was more… magret duck was nicely paired with a raspberry and strawberry sauce; a deep fried cube of manchego worked exceptionally well with strawberry; pork loin with a raspberry and strawberry salsa was juicy and moreish, while seared scallop with strawberry was an interesting combination but although the scallop was cooked to perfection, it was the least successful pairing in my view.
Moving on to more conventional territory, we had strawberry sitting on a gorgeous chocolate sauce and a Madrid classic, strawberry and condensed milk. These were more obvious berry territory (berritory, if you will) and didn't disappoint, both were delicious.
As well as strawberries and raspberries, Spanish growers also produce top quality blackberries and blueberries, with a wide range available. We tried many of these simply on their own, and all had excellent flavour.
These berries are a delicious way of working towards a healthy diet, including having the famous five a day that we are constantly exhorted to eat. We'll certainly be having them more often.
Phillip Azevedo