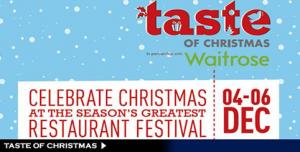 This year, Taste of Christmas, the stylish foodie event of the festive season, has tempted some of the capital's biggest culinary stars away from their restaurants at the busiest time of year with the promise of a winter wonderland of delicious Christmas food, drink and shopping.
Taste of Christmas, the wintertime sibling of summer's blockbuster, Taste of London, is a truly Christmassy show of the season. It returns to ExCel this December 4-6, 2009 with a great gastronomic line-up.
This year there will be more restaurants, meaning more signature dishes (in tasting-size portions costing between £3-6) for visitors to sample as they wind their way around the show on a culinary tour of their choosing. There will be opportunities to peek behind the scenes of the UK's hottest kitchens as the attending chefs reveal their best-kept culinary secrets at the Waitrose Cookery School in Association with Philips and introduce us to some of their favourite gourmet food suppliers.
Heston Blumenthal will be joining Taste of Christmas on Sunday 6th December and other guest chefs are expected to appear at the event over its three days.
Confirmed attendees who are bringing their culinary flair to this year's show include:
Alan Jones, Almeida Restaurant, Islington
Atul Kochhar, Benares, Mayfair
Richard Corrigan, Bentley's Oyster Bar and Grill, Mayfair
Pascal Aussignac, Club Gascon, Smithfield
Riccardo de Pra, Dolada, Mayfair
Bjorn Vander Horst, Eastside Inn, Farringdon
Franceso Mazzei, L'Anima, Liverpool Street
Anna Hansen, Modern Pantry, Farringdon
Lawrence Keogh, Roast, Borough Market
Robin Gill, Sauterelle, City of London
Chris Dines, St Pancras Grand, King's Cross
Bubker Belkit, Sumosan, Mayfair
Alfred Prasad, Tamarind, Mayfair
Ravi Deulekar, Trishna, Marylebone
Tickets for Taste of Christmas in partnership with Waitrose 2009 are now on sale at www.tasteofchristmas.com
Tickets cost from £19 in advance or £22 on the door. There is a £35 ticket (which includes £20 worth of crowns, the Taste currency). Also available is the Taste VIP ticket at £50, which includes fast track entry to the event, access to the VIP enclosure, complimentary glass of Laurent Perrier and £20 worth of crowns.