Three unassuming sachets sit in front of a skeptical me. Nice packaging design, colourful, clean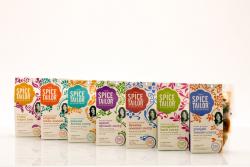 graphics- and the reassuring photo of Anjum Anand, noted for championing authentic, tasty Indian food. But, ambient curry sauces? Really, Anjum? With all due respect, I'm not sold. Until, of course, I unequivocally am. Tail firmly between my legs, I award a resounding victory to 'The Spice Tailor'.
A good old cook-up always ignites a hunger for more knowledge, so as I slice, weigh and fry I'm simultaneously flipping the pages of regional Indian cookbooks to discover more about what I'm going to scoff. Using the sauces mean I'm free to let my mind wander without a culinary car-crash- simply frying the included sachet of whole spices in oil, adding the main ingredient and cooking the dish through with the sauce. Easy- and actually tasty- as you like.
Etymologically speaking, the term 'korma' simply means braised in a little liquid. In the UK, at least, it's come to mean the lavish, thick sauce beloved by the English since they began indulging in the Moghul dish on arrival in India in 1608. Dairy ingredients were drawn from the Lucknowi Oudh region, and the Persian trick of thickening with ground almonds deployed. These Moghul chefs were revered, perfecting, over time, the rich, luxurious preparations for which they remain so well known.
If I was really pushing myself, I'd serve Anjum's 'Delicate Korma Curry' up as part of a Kashmiri feast, or 'Wazwan'; but tonight a bowl of greens and some chapattis do me. As for the meat itself, inspired by Cyrus Todiwala's Parsee meat pickles, the Rajasthani warriors' 'shikaar' (hunting) habits, and a freezer full or game, it's pheasant which makes this particular korma so pleasant. For a sprinkle of authenticity, I strew over a handful of 'char magaz'-a four seed mix popular in Lucknow.
If I were being strictly authentic, of course, I should be cooking the 'Keralan Coconut Curry' in a shallow 'man-chatti'; but my trusty, just-this-side-of-rusty frying pan does the job just as well. In goes a cornucopia of exotic veggies with the spices and sauce, in approximation of the festive dish, avial. The coconut palm is revered and extensively utilised in the coastal state- 'Kerala' itself translating as 'the land of coconuts'. In the kitchen, even the bowl of the ladle-like 'chiratta thavi' is fashioned from a coconut shell.
Karnataka, meanwhile, the state providing the inspiration for Anjum's 'Mangalore Herb Curry', is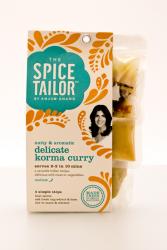 known as 'the fragrant state'- and my kitchen's definitely in a pretty fragrant state as I, deviating from the on-pack recommendation, cook it up with some meaty white fish. Were I a Mangalore Brahmin, I might have opted to use cubes of fresh pineapple. But, alas, I'm not that high-caste, or even high-class. Nevertheless, the tangy, herbal sauce is delicious, heady with coriander, tempered with cashew and coconut and given the perfect, correct bite of Guntoor chilli.
With 'The Spice Tailor', Anjum's achieved a rare thing- a 'can't be bothered' product for people who actually could be, if time and pantry space were no issue. But for most of us, they are- and taste is the absolute issue. These sauces hit the mark, delivering consistently authentic, palatable results post-haste. And, when it comes to setting the table, it pays to heed the words of one notable Persian Shah who claimed; 'Eating with a knife and fork is like making love through an interpreter'. All hands on deck…dig in.

The seven-strong range of Anjum Anand's 'The Spice Tailor' sauces is available to buy in Waitrose and online at www.thespicetailor.com