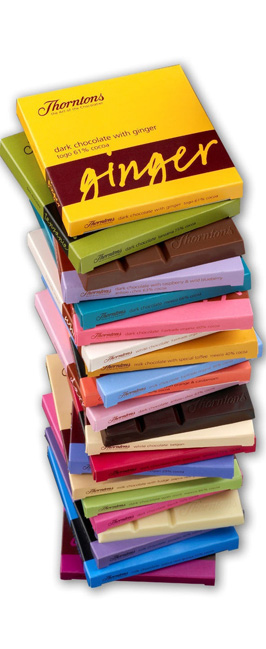 Thorntons have added to their hugely successful range of Chocolate Blocks with a limited edition honey & chilli bar launched for Valentines Day. If you fancy spicing things up on the most romantic day of the year then the chilli chocolate block in its colourful packaging is ideal. The fruity overtones of the intense, single origin 66% Mexican dark chocolate, perfectly complement the subtle warmth of the real chilli infusion.
Keith Hurdman Thorntons Master Chocolatier, says: 'The Thorntons Chilli Chocolate block is our first ever limited edition Chocolate Block, so we have put a lot of work into developing the delicious exotic flavour to make it just-right. The chilli notes are subtle, yet warming as we've infused the cocoa butter ourselves with real chillis to make sure we've got the taste just right. '
Made using some of the finest cocoa beans from around the world and combining deliciously unique flavours, Luxury Chocolate Blocks are truly sublime. Each flavour comes in its own brightly coloured square box, with a stylish colour for every flavour making it a smart accessory as well as a delight for the taste buds.
The full Thorntons Chocolate Block range is available in Thorntons stores and from www.thorntons.co.uk (RRP £1.79 – £1.99 per bar). The range includes 19 other mouth-watering flavours such as Orange & Cardamom, Balsamic , Special Toffee, Fairtrade Organic, 85% French Dark, Ginger, Papua New Guinea Milk, , Mint and AntioxiChoc BerryBoost.