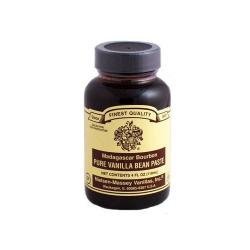 Nielsen-Massey are best known for producing vanilla extract; a bakers' kitchen staple and the antithesis of that nasty synthetic stuff, vanilla 'essence'. Now they've come up with another 'alternative to vanilla pods:' Vanilla Bean Paste.
I didn't realise I needed another alternative but it seems that sometimes we just don't know what's good for us; this product is really rather good.
Pure Madagascan vanilla is cold extracted, infused, thickened and decanted into an attractive little jar for our culinary convenience. At first, I am sceptical: what's wrong with a vanilla pod for pete's sake? They look all nice, there's pleasure in scraping out the seeds and everyone knows the empty pod makes great vanilla sugar.
This paste though, I could really get used to. It's very convenient indeed and extremely good value: 1 tablespoon of paste is equal to 1 vanilla pod – with 118ml of paste in the jar you're getting over 6 vanilla pods for £5.99 (RRP). Just 1 pod will set you back around £2.50 in some supermarkets. You don't miss out on the appearance of those individual seeds either; I used it to make a favourite ice cream recipe which was, as per usual, appealingly flecked.
It's also suitable for flavouring custard, crème brulee or, rather obviously, anything which requires a vanilla pod. You can use it as a sauce in its own right however; try drizzling on top of desserts; stirring into crumble fillings and then, once the weather warms up, swirling all over strawberries and cream.
Nielsen-Massey Vanilla Bean Paste is available from Lakeland, Harvey Nichols and independent stores nationwide. For further information about Nielsen-Massey products and a host of recipe ideas, visit www.nielsenmassey.com