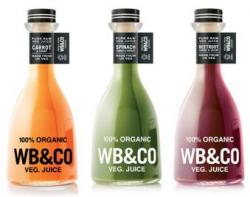 I like to think I'm a bit of a foodie, but here we have someone who comes close to gagging when he raises a glass of neat tomato juice to his lips even though he likes tomatoes. I don't know why, it's irrational, but drinking vegetables and 'savoury' fruits , particularly when they are thick and gloopy just seems wrong. So, at this late stage in my life (I like to think of it as my 'late summer') I made myself get over this faddiness and sample the WB&CO vegetable juice drinks.
I understand that WB&CO was launched in Singapore in 2007. Mark Walker, who is fructose intolerant and so can't drink fruit juice, apparently spotted a gap in the market for a naturally made range of chilled pure vegetable juice. Mark launched his product range in London in the Spring of 2010 and these are now available at a selection of the capital's cafes and retailers. Targeted mainly at urban professionals, the 250ml single serving can be consumed on the go or with a lunch and they have the health benefit of adding 2 portions of organic vegetables to your diet. To my relief the WB&CO juices aren't thick and gloopy, they are smooth and light, each with a clean and fresh distinctive finish. The colours are natural and the aromas of the vegetables greet you as you raise the drinks to your lips.
And so to the range of products, first to be tasted was the carrot and ginger, in which the ginger comes through well both on the nose and on the palate. It's warm fresh ginger that you get up front, this balanced by sweetness from the carrot. The juice has quite some length on the palate and there is a little tingly heat from the ginger in its finish.
The beetroot, celery and carrot gives you all its constituent parts as you raise it to the nose, the celery in particular coming through well. The celery is the dominant character on the palate but the carrot and beetroot add some sweetness giving it a round flavour and there is some slight peppery heat in its length on the tongue.
Finally the spinach carrot and parsley, this is the more savoury of the three drinks, the aroma is principally that of the spinach and you get the sense that there might be some heat from a horseradish like twang on the nose. When you take a mouthful, there's a grassiness, the spinach comes through with some freshness from the parsley. There's some sweetness to it, provided by the carrot and the spinach gives it an edginess in its length.
WB&CO have adopted an eco friendly approach to production and we are told are committed to sustainability. The bottles are made from a high flint glass that can be refilled 8 times at WB&CO Pressing Plant, assuming there are processes in place for collection and return. Where this isn't possible, I am told that high flint glass can be melted down easily and recycled to make other glass products. In addition to this, the pulp (the vegetable matter left behind after juicing) goes to The Royal Park HQ in London to be used as organic compost for their flowers.
Having had some success in London, I am told that Mark Walker has a vision for the future, which includes nationwide expansion throughout the UK. Will I be seeking these drinks out, probably not, they really aren't my sort of thing, but then each to his own. They will undoubtedly appeal to a wide market, as they are good for you and a great supplement for those who have difficulty getting through their five a day. Or is it now seven a day?
The WB&CO juices have RRP's of £2.29 for the Carrot and Ginger, £2.29 for the Beetroot, Celery and Carrot and £2.49 Spinach, Carrot and Parsley. Each juice comes in 250ml bottles are fresh with no additives. They claim that each juice contains a balanced 400 grams of raw vegetables and herbs sourced in the UK
These three juices are available principally in London, you can find the WB&CO drinks at Selfridges, Ottolenghi, Daylesford Organic and selected London Waitrose stores
For more information about WB&Co juices go to: www.wbcouk.com