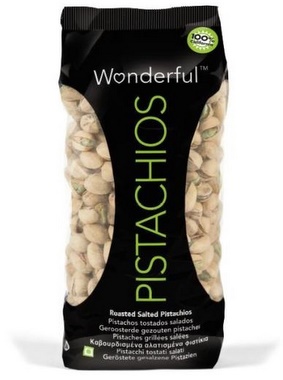 Everyone knows pistachios are delicious, but few people are aware of their health benefits. Containing only 3-4 calories each and more fibre and protein than any other nut, pistachios are a great, guilt-free snack. One 30g serving of Wonderful Pistachios contains more antioxidants than one cup of green tea and more lutein than three medium tangerines or a glass of orange juice. Wonderful Pistachios, the largest pistachios available from California, are rotary roasted and seasoned.
Wonderful Pistachios are produced by Paramount Farms, also an almond producer. The nuts are available in a wide range of packaged in-shell and shelled varieties. For a limited time, Julian Graves, a well-known specialist food retailer in the UK, is selling Wonderful Pistachios in 500g packs for £3.99 each or two for £7.00.
To find our more about Wonderful Pistachios please visit www.wonderfulpistachios.com. To read up on the health benefits of pistachios, visit www.pistachiohealth.co.uk.