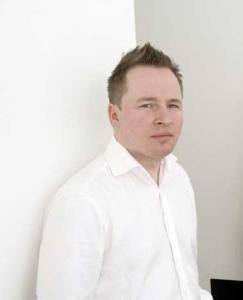 The annual January roll-call of Michelin awards saw Texture restaurant receive its first coveted star. A joint venture started by Icelandic Chef Agnar Sverrisson and Sommelier Xavier Rousset, both formerly of Le Manoir Aux Quat'Saisons, the intimate 50-seater restaurant has been a name that has consistently appeared on best restaurant lists in the past couple of years. I pay Chef Agnar Sverrisson a visit to learn more about the restaurant and more about the man who is largely responsible for Texture's success.
The presence of most Chefs are usually felt long before they are within a few feet of you, but as I sit in a quiet corner of the Champagne bar waiting for Sverrisson, I am trying my best to prevent my soaking wet umbrella from staining the immaculate suede banquette seating when suddenly a white-clad figure appears before me like an apparition and quietly whispers something inaudible to me. What strikes me is the air of serenity and calm which seems to surround him, a unique element that most Chefs don't seem to exude. He smiles at me and ushers me to follow him and I briefly glance down to grab my handbag, only to look up and find he has disappeared as quietly as he'd appeared. I look everywhere and amusingly, I can't seem to find him. He then re-appears smiling and I follow him into an opulent private dining room adjacent to the main dining area, which is neatly laid out for a handful of guests. Brightly coloured plates adorn the table, with patterns that wouldn't suit all tastes, but nonetheless capture your attention with their vibrant burst of colour.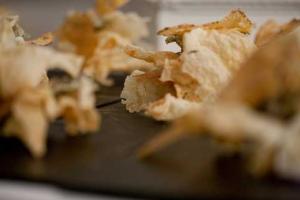 Agnar, or 'Aggi' as he is known, seems jubilant at securing his first Michelin star. 'We were very optimistic the year prior and it didn't happen, which came as a bit of a disappointment, so better late than never, but we really weren't expecting a star this year so it came as a welcome surprise. Receiving a star is of course very important, not necessarily for me personally, but business wise our bookings seem to have rocketed and I guess people are thinking – Ooh, it's a Michelin star restaurant, lets go there! – When I was younger, I would do foodie trips to London and I would take my Michelin guide with me and choose restaurants listed in the guide, which makes me realise having a star definitely helps.'
The media seem to spend a lot of time focusing on the fact that Sverrisson is Icelandic but for those among us seeking out an authentic Icelandic experience, Texture is definitely not a place for that kind of meal. Looking at the menu, you would be hard pushed to find anything other than only the most subtle hints of Icelandic influence or ingredients. When asking Sverrisson if the menu is supposed to be so devoid of Icelandic influence, he is quick to clarify 'I never said my menu would consist of Icelandic cooking. We serve modern European food with an Icelandic flavour and some Icelandic produce like Cod, Langoustines and Skyr but the cooking techniques applied are essentially more Scandinavian in their modernity and unfussy presentation, making it more rustic and true to nature. I think the world is changing and people are much more aware of nature around them. More people seem to be foraging for ingredients and we get a lot more foragers coming to the restaurant with produce than ever before, which is great. I believe that in a few years time, more and more people will be cooking similarly, keeping the flavours clean and simple and closer to nature, rather than altered beyond recognition. But in essence, Texture is not different because we are trying to be different, we are different because that is our style and that is how we choose to do things."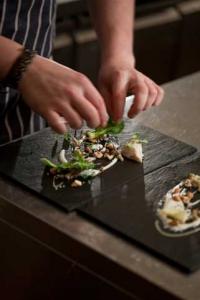 An interesting fact about Texture that seemed to make headlines when first opened is that the menu is prepared entirely without the use of cream or butter (Cue gasps from the shocked masses of dedicate foodies) – Sverrisson explains 'This wasn't something I thought about or planned, it was just what I felt like doing at the time and it works for me. If I thought I would be compromising my cooking in any way, then I just wouldn't do it. What I hate is when I go to an amazing restaurant and have a fantastic meal that is so heavy, I am left feeling ill and unable to do anything else other than head home and flop. What a waste of an evening!"
Icelandic cuisine by definition isn't entirely something that would sit comfortably with most of us. There are lots of safe options as well as lots of incredibly good produce, such as their cod which is in no way overfished like most cod seems to be these days but there are also some traditions that would deter even the most adventurous foodies. Rotten shark, rotten skate, whale meat, smoked and salted lamb and various other meats are all eaten, especially as a lot of Iceland's foods are determined by the preservation methods used, due to the climate, such as pickling, drying and smoking. 'I would love to introduce Puffin onto the menu, but I know people are scared of trying it because they think it's a cute little bird that shouldn't be eaten, but actually it's lovely. We also eat a lot of whale in Iceland, which when prepared is delicious, but I guess if you haven't grown up eating certain things then you probably won't enjoy them. I was brought up on foods like smoked lamb and love it, but don't think it would be enjoyed here because of its heavily salty-smoked nature."
The influences at Texture are hints rather than full-on hits of Icelandic cuisine. A few of the signature dishes that can be found on the menus at Texture are Quail with bacon and sweetcorn popcorn, rib eye beef with horseradish cream and olive oil béarnaise and of course the classic Icelandic Skyr, which in this case is made into an ice cream and served with rhubarb and Muesli. Having recently visited the restaurant myself, the food was beautifully executed and just as Sverrisson promised, modern with clean and natural flavours and using the best ingredients possible.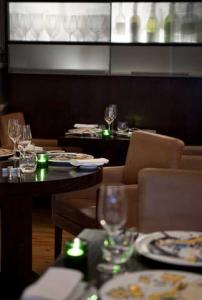 Aged just 35 and already at the helm of a Michelin star restaurant is quite some feat for someone as young as Sverrisson, putting him in amongst an elite minority of Chefs who have achieved success early on in their careers. 'I knew from a very young age that I wanted to open a restaurant so when it was time to open Texture, I already had a rough idea of what I wanted to do. The problem was that by this stage of my life, I wanted to do so much that I had absolutely no idea which direction to move in first. Two and a half years later, I feel like I know exactly what I'm trying to achieve and am comfortable with it and feel I can move forward seamlessly. In the past I was a just a head chef and all I had to worry about were my food costs and my staff, but being an owner is a completely different ball game. You have to worry about so many different things; all the things that you never thought you would have to worry about, you now need to keep in mind. Sometimes I find it suppresses my creative side because I have so many other worries on my mind that trying to get something creative out of me can prove to be very hard work. Don't get me wrong, I'm not sitting here for a single second feeling sorry for myself, but sometimes thinking solely about food just isn't realistic. I'm 35, but believe me, I feel older. 6 years ago, doing 18 hour shifts every day really wasn't a problem, but now it is a bit of a mission! But I'm very lucky to be surrounded by great staff that support me and do a great job, but at the end of the day, these are my worries and I have to manage them and solve any problems that arise."
Asking Sverrisson what he thinks about how reality TV and TV Chefs have influenced the next generation of potential young Chefs, he continues by airing a frustration, the sentiments of which will doubtlessly be echoed by Chefs around the world… 'The biggest problem I have these days is trying to source good staff. People come in and they expect f**k loads of money. When I interview somebody, they don't ask about food anymore, they just ask – How much do I get paid? What are my hours? How much holiday do I get? – It's so frustrating. When I was young, I never asked about money or holidays; what was important was the food, the job and I knowing that if I worked hard enough, the rest would eventually come. A lot of young kids want to be Chefs because they see it on TV and think – Yeah I want to do that – they think it's easy and that success is instant, but they don't see how hard it is and how much work you have to do before you get anywhere. At the end of the day, you will have very little social life, the hours are long and you will cry a lot and get very little money initially. But if you work hard and persevere, the money improves as does the lifestyle and if you are very lucky, you may even get your own restaurant. I am completely against abuse in the kitchen, but of course you will lose your temper here and there, but if you don't respect people, then they won't respect you."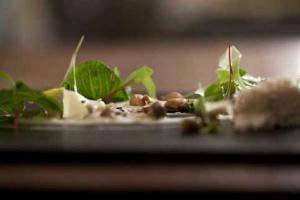 With a Michelin star tightly secured under his belt, Sverrisson, along with his partner Rousset have another venture in the pipeline. 'We are opening another business in Fetter Lane in the City in approximately 2 months time. I will still be based at Texture as I want to take Texture to another level, but I will be overseeing the project in the City. It will have a completely different name, different concept with much simpler food and a greater focus on wines."
With all this talk of work and business and running around between Texture and the new venture, it must be incredibly hard to get any rest at all. Sverrisson admits 'I try to go home at least once a year and I want to retire in Iceland and own a nice holiday home over there. But I feel the need to have many adventures before I head back home. I do miss my home and especially my family, but there are many mountains to climb before I give up working in favour of retirement!"