Old Royal Naval College King William Walk, London SE10 9JF www.oldbrewerygreenwich.com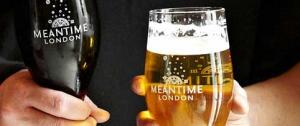 There aren't many restaurants in London you can take a boat to, although there are quite a few that require pushing the boat out. The Old Brewery in Greenwich is one but not the other, being on the river but not over the top on price. You can of course drive there, even get the DLR, but the absence of a driver on the latter can be rather spooky and Dr Who'ish, especially to tourists.
No a boat is definitely the way to go and this one even accepts your Oyster card. How good is that in these cash-strapped times? These commuter boats aren't the rickety things of old either, with customers sitting grim-faced in a freezing river breeze and chugging slowly past Traitor's Gate while an ancient tape recording shouts out the sights. These new ones are like some kind of jet aircraft; comfy seats, air conditioned and they whizz along at a fair old rate too, sending a wash tail across both sides of the Thames as they go, knocking modern day 'mudlarks' off their feet as they scavenge at the edges for gold teeth, old prams, discarded firearms etc.
Waterloo to Greenwich seems to take no time at all, certainly less time than it would have taken Henry VIII back in the day. He was born close to the Old Brewery as it happens, proving that we South Londoners have had a bit of a problem respecting women going back a long time. The boat docks as fast and as accurately as Luke Skywalker bringing in his X-Fighter and minutes later you're in the Old Brewery proper admiring the bright copper tanks that climb the walls and produce the restaurant's wide range of beers.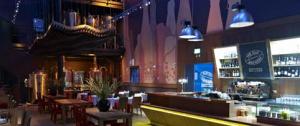 The restaurant isn't really The Old Brewery to be honest, it's actually The Old Squash Court, but that doesn't have quite the same ring to it. The Grade II building overall is definitely the old brewery though, as ancient metal beams, cellars and brickworks attest. Here beer was brewed for the hospital next door; beer in those days being safer than water because it was boiled. The Greenwich Meantime Brewery, as part of the changes made to the Greenwich Royal Naval College (as was), have brought the old trade back to life and added a cafe by day and restaurant by night too.
Head Chef Daniel Doherty looks impossibly young, but he's got a wise head on his shoulders with an evening menu that is as British as his location demands. It makes you want to sail off immediately, reclaim the Empire and restore stability to the world.
Breaded fried pigs ears sound suitably Tudor but are rather good, not at all chewy. Daniel partners these with confit middle white pork terrine, apple sauce and granary toast. The apple sauce, as usual, reminds me mostly of baby feeding time but the terrine is chunky and flavoursome and what's not to like about granary toast? Beer being the thing here this starter partners with the recommended Meantime Wheat Beer, which is not as citrusy as the Dutch version yet still cuts the fat effectively. It's a good match.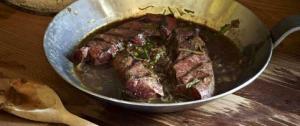 Daniel reckons his Meantime Pale Ale braised neck of Herdwick mutton, ratte potatoes, anchovy and parsley gravy is fast becoming the most popular dish on his menu and you can see why. The mutton (neck) has been braised to a rich, melting softness and then pressed into a mould to create a little castle on the plate. Ratte potatoes are the king of potatoes in many people's opinion, a main crop that is like a summer salad potato; firm and waxy and with pure potato flavour. It goes well with the seasonal purple sprouting broccoli which has held its crunch nicely although, like purple beans, it actually goes green on cooking. The same Pale ale it was braised in is served with it, although not literally you understand, this is a fresh bottle. Again it's a good choice and such a pleasant change from wine.
Finally we had a selection of desserts: Hot chocolate fondant, Jersey clotted cream ice cream, chocolate malt crunch, Lemon tart with Kent hop meringue, and Meantime chocolate porter sorbet with chocolate and orange cookie – all good but we realised we needed to catch the boat which doesn't hang about – if it sees no one on the pier it takes off like a rocket. Just time to swallow a glass of excellent Hospital Porter, a dash across the grass and we were soon admiring Tower Bridge as we sailed, sated, below it.
I liked the Old Brewery, what they are doing and how they are doing it. The beers are made with care and attention, the beer garden looks promising for the summer, and the food has a cheerful solidity and lack of pretension that fits the restaurant like a well-worn doublet and hose. Henry would have liked it too, but would he have objected to any heads on his beer?