Things are really 'heating up' this summer as two of the UK's finest chefs – Ainsley Harriott and Simon Rimmer – have each devised a recipe for us to try and interestingly both have a warm thing in common – Tabasco
AINSLEY HARRIOTT'S HOME-CURED CARPACCIO OF BEEF WITH TABASCO® AND BASIL

Serves 4 as a starter
250g Thick fillet of beef (semi frozen will make it easier to slice)
1 red onion, sliced very thin
1 teaspoon caster sugar
2 limes, zested and juiced
½ teaspoon Tabasco® Pepper Sauce
2 tablespoons virgin olive oil
Handful of fresh basil leaves
Fresh coarsely ground black pepper
Italian style bread to serve.
1,Slice the beef as thinly as possible then lay onto a large shallow dish and scatter over the sliced red onions.
2, In a small bowl mix together the sugar; lime juice and Tabasco® then drizzle over the beef. Cover with cling film and set aside to cure for 15-20 minutes.
3, To serve, remove cling film, drizzle over the virgin olive oil, tear over the fresh basil and add a good grinding of percy pepper. Serve with your favourite Italian bread
SIMON RIMMER'S AUBERGINE TABASCO® SALAD WITH FENNEL AND ORANGE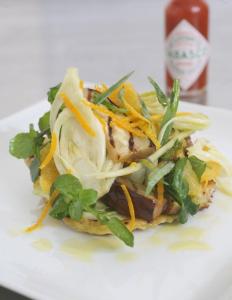 Ingredients
2 aubergines, cut into wedges, then griddled
Half bulb fennel
1 orange, segmented and another zested and juiced
50ml sherry vinegar
175ml x v olive oil
Tbs chopped tarragon
Tbs Tabasco® Pepper Sauce
Bunch small watercress
2 naan breads cut into 6 x 100mm circles
Vegetable oil to griddle
Method
Shave the fennel on a mandolin, then mix in a bowl with orange segments, juice and zest, vinegar, Tabasco®, olive oil and season well. Add the tarragon and stir well. Rub the aubergine wedges all over with 2-3 tablespoons of the vegetable oil. Heat a griddle pan over a medium heat. When the pan is hot, add the aubergine wedges and grill for 1-1½ minutes on each side, or until golden-brown griddle marks appear on both sides and the aubergine is tender. Set aside on a warm plate. Brush naan with oil and griddle on each side. To serve – toss the watercress and aubergines in dressing, then spoon on top of the bread.