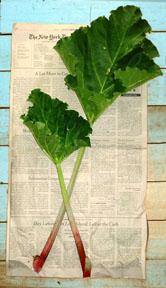 Do you still have snow? Is the sap running? Have you seen mergansers on the river? These familiar questions are heard at the post office, the Creamery, the market, and at community dinners in the early spring.
It was a bright morning last April, when I saw pink sprouts pushing up through the cold earth. Within a week, there were pink stems topped with dark green leaves. Rhubarb! It would be the first harvest from my garden. Along with the phoebes that nest in the rafters of the barn, it's rhubarb that announces the arrival of spring in Vermont.
A lilac bush, a clump of rhubarb and a stonewall may be all that remains of a homestead abandoned a hundred years earlier. The dark green leaves, full of oxalic acid, are poisonous but the bright pink or drab green stems are loaded with flavor. It doesn't need much attention, an occasion scoop of well-rotted manure and cutting back the flowering stalks when they appear will keep the harvest coming until early summer. Technically rhubarb is a vegetable, but I think of it as a fruit that can be roasted and topped with a dollop of yogurt, baked in a pie or simmered with dried fruit to make chutney.
A week after the sprouts had appeared, it was impossible for me to wait any longer. There wasn't enough rhubarb to make a pie, but there were enough stems for a 'dessert for one'. That bowl of sweet-tart, roasted rhubarb satisfied my rhubarb cravings. Here's how I did it:
Roasted Rhubarb
I put four stalks of rhubarb, cut in one-inch pieces in a bowl along with two tablespoons of sugar. While it rested in the sugar for half an hour, I weeded the rhubarb patch. When I'd finished weeding, I poured the rhubarb and the juice that had formed into a buttered ceramic baking dish. After roasting at 350 degrees for half an hour it was tender and surrounded with sweet pink syrup. I poured in a generous splash of heavy cream, added a sprinkle of freshly grated nutmeg and returned it to the oven for ten more minutes. It was edible proof that spring had come.
I like to eat it still hot from the oven, with an antique silver spoon that was my grandmother's, but no one has complained when I have served it chilled as dessert or topped with granola for breakfast. Rhubarb from the garden with cream from a Vermont dairy and local maple syrup is eating local at its best.
A piece of pie is often breakfast in New England. A slice of custardy rhubarb pie served with a steamy cup of coffee does the trick. It was my friend Kathy who generously served me my first piece of this pie. Here's how I made it when I was able to harvest enough rhubarb:
Kathy's Grandmother's Rhubarb Pie
To avoid lumps, I combined, in this order, one and a half cups sugar, four tablespoons of flour, three tablespoons of milk, one-teaspoon of nutmeg, one teaspoon of vanilla, three beaten eggs, and four cups of sliced rhubarb. After I spooned the fruit mixture into a pan lined with an unbaked crust that extended two inches over the sides, I folded the extra pastry back onto filling. This gave the pie a rustic look and made fancy latticework unnecessary. It took about 70 minutes in a 375-degree oven for the crust to brown and the custard to set.
By the middle of June, I was pied-out and there was still plenty of rhubarb waving to me from the garden. It was time to make chutney. I gathered the remaining rhubarb and pulled out my pickling pot. Here's how I did it:
Rhubarb Chutney
I put one and a half cups of sugar, half a cup of cider vinegar, two tablespoons of minced fresh ginger, two tablespoons of minced fresh garlic, three quarters of a teaspoon of cumin seeds, a teaspoon of yellow mustard seeds and half a teaspoon of red pepper flakes into a large, non-reactive pot. I brought it to a simmer over low heat. When the sugar had dissolved, I added six cups of rhubarb cut into half inch slices, one cup of diced red onion, three quarters of a cup of raisins and a quarter of a cup of dried cranberries. It took about five minutes, over medium heat, for the rhubarb to become tender and for to the mixture to thicken a bit. I followed instructions that I found on-line for canning the chutney in half pint jars.
When I make chutney, I modify what I add to the pot depending on my mood and the contents of my pantry. Red wine vinegar makes a slightly pinker chutney, dried apricots, peaches or cherries can be used instead of raisins and cranberries, and so on. I adjust the quantities to correspond with the amount of rhubarb I have harvested.
Last September, when I opened a jar of chutney to serve with broiled chicken, I was reminded of that morning when spring arrived.
Carol Egbert lives in Vermont, where she paints and cooks. Her food blog can be found at www.carolegbert.com.