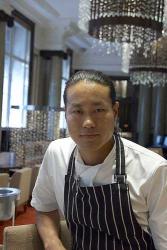 Born in New York to Japanese parents, Jun Tanaka is Executive Chef at 'Pearl' Restaurant in London. Jun has become one of the more popular faces of a new generation of Chefs gracing our television screens. Gordon Ramsay, Marco Pierre-White and the like should make way for the younger, fresher faces of tomorrow. Jun is one such face and I don't mind admitting, he is pretty easy on the eye too. Beginning his career under the watchful eye of the Roux dynasty at the famous 'Le Gavroche', Jun spent 10 years working in some of the country's top restaurants, under some of the most notoriously difficult Chefs in the business. Jun has used his experiences to bring his own unique brand of 'Modern French' cookery to fruition at 'Pearl', consistently delivering food which is both seasonal and innovative.
With over a decade spent in some of the toughest kitchens in the country, you would be forgiven for expecting Jun to have a big ego, but the simple fact is that he is actually a very nice guy. My industry spies who have worked with him in various establishments, all say he is a great person to work with and their respect for him remains firmly intact. Perhaps its time to leave the 'Bad Boy Chefs" of yesteryear behind in favour of seeking new culinary inspiration in talented Chefs like Jun Tanaka.
We have some recipes from Jun's new cookbook here
Portrait: Al Stuart
Jun, you have worked with some of the top Chefs in the business… How have your experiences molded you into the Chef you are today?
When you work 16 hours a day, 6 days a week, inevitably you do take away a little part of each Chef you work with. They have definitely had an influence on the food that I cook, but most Chefs I have worked with were difficult and temperamental and this is not how I run my kitchen.
How many days a week do you spend in your own kitchen and what do you think of Chefs who rarely show their face in their own establishments?
I spend 5 days a week in my restaurant, but of course occasionally there are other jobs that arise where you need to be elsewhere and that's also part of the job. Ultimately, say you run 10 restaurants around the world, it would be impossible to be everywhere at once, wouldn't it? Chefs are like a brand, they train their staff to deliver the product at the same high standard that they would themselves. You wouldn't walk into 'Gucci" and expect Mr. Gucci to be selling you a bag, would you?
How do you cope with the pressures of being a full time Chef as well as having regular guest spots on various TV shows?
In a funny way, I enjoy it very much, but obviously not consistently. The way I deal with the stress and pressure is by speaking to my brother – he is a surgeon – and he always says 'It's just food". It certainly does put things in perspective that sometimes can get blown out of proportion. You really need to be able to detach yourself from it all.
What is your policy on sourcing and using British produce? How viable is this at Pearl?
We source a lot of our fish from the Cornish Coast and try very hard to source as much of our produce from Britain as possible as we recognise that it is incredibly important. But the simple fact is that some produce found abroad is of superior quality and that is also important to me. I won't buy British for the sake of it being British. I will only buy British if it is genuinely of superior quality.
If you hadn't become a Chef, which other career would you have pursued?
I love Scuba diving and have been doing it for 12 years. If I had to choose another career, I would have loved to been an underwater photographer, somewhere incredibly hot!

Where did you eat the best meal of your life?
At a restaurant in Copenhagen called 'Noma", which had been voted the 3rd best restaurant in the world (Ferran Adria's 'El Bulli" taking 1st place and our very own Heston Blumenthal's 'Fat Duck" at 2nd place). We had a 22 course tasting menu and the highlight of it for me was 'Roasted Langoustine with Oyster Puree and Seaweed powder.
Another memory that springs to mind was 'Octopus Carpaccio' served on the terrace of a restaurant in Taormina (Sicily) whilst overlooking the sea.
What were your culinary memories as a child?
My Mother was a housewife and she always cooked meals for the whole family, right up until the time I was 18. But I also have vague memories of my Grandmother and live crabs. My Grandmother lived in little village in Japan, which she never left, and a fishmonger would visit the village and she would always buy crabs and prepare them for us.
If you were granted one final meal on earth, what would it be?
Beef in a salt crust with Béarnaise sauce and chips.
Tell us about your new cookery book…
It's called 'Simple to Sensational" and it contains 50 great recipes that are simple and straightforward, but have a great impact.
Jun Tanaka will be on our screens again all next week on 'Market Kitchen' at 7pm from Monday – Friday on the 'Good Food' Channel.