Lee Bennet, Head Chef at Le Pont de la Tour is remarkably bright eyed and bushy tailed as he talks to us about the challenge he's taken up, and the hours he's putting in.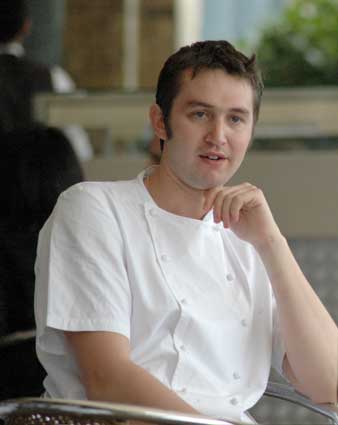 Le Pont de la Tour means, of course, Tower Bridge. It sounds so much more romantic in French, but then so does just about anything including Andouillette, which you think must be a jolly form of country dancing but which translates in English to 'totally horrific tube of gut thats is stuffed full of offal and bits of animals you don't want to even think about.'
This Francophilic ex-Conran restaurant now has as its Head Chef a classic Yorkshireman. 'I cooked in Paris for three years,' Lee Bennet says as we hide from the rain under the restaurant's awning. 'And I realised that French food: foie gras, cold cooked meat and all that on a Sunday was all good because I was in Paris and living the Parisian life. But in the back of my mind I was always thinking 'roast beef and Yorkshire pudding'. That's what I'm born and bred on."
'I started the life when I was 15," he explains. 'I was in Yorkshire, in Bridlington, and I went to a seaside restaurant to wash pots and the chef let me do some salads, so I did some salads. I never saw that as a career, though. I just saw it as a way of getting cash at 15 but I then I thought, 'well, I might just give this a go for a bit' and by the end of the year I thought, 'I've done this for a year, I've learnt so much. I want to carry on." But the problem it turned out wasn't so much the career, it was Bridlington.
'It's a very small seaside town, 'he points out. 'People were like, 'oh, you've chosen a dead-end career, you're not going to amount to anything in life', so I thought I better prove a few people wrong. So, I went over to a place called Hazelwood Castle on the A64 in Yorkshire. The chef there was John Benson-Smith. At the time he was a master chef in the UK at one of these country house hotels. All the sous chefs and everybody at the Castle were from London though and all I heard every day was 'London this, London that'. So, at the age of 19 I came down to see what it was all about, and that's where I met Jason Atherton and that's how the story goes ever since."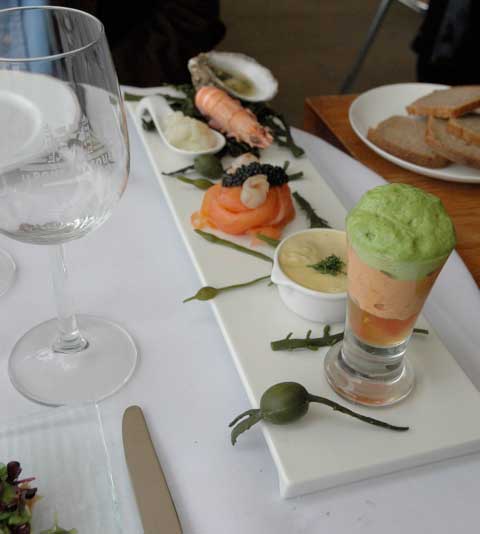 Time spent working with Jason Atherton was then followed by heeding Gordon Ramsay's call to go out to Dubai. It certainly honed Lee's fine dining skills. 'I didn't actually know where Dubai was!" he laughs. 'I went out there in 2001. I was 21 at the time and I just had an amazing time. I worked in the Gordon Ramsay restaurant and it was just fantastic. You had to completely adapt your working methods because all the fish had to come in frozen and you just had to work around that. There's pretty much no local produce at all."
Even so, he did eventually felt the urge to move on. 'Gordon said to me it was time to come back as well, but I didn't feel it was right to return to London, ' he says moving his chair away from a stream of rain water that's sneaked past the awning and is now floating my case away. ' And so instead I went to Paris and got working with Pierre Gagnaire. I did a year and a half with him then swapped over to work with Alain Ducasse at the Plaza. It was only after five years of being away that I felt it was truly time to come back."
Coming back involved a few weeks helping out the Savoy Grill, soon turning into gaining the official role of Head Chef there at just 26 years old. 'It was tough," he admits. 'It was a big place and a we had a Michelin star to retain." Success there led to an offer by Ramsay for Lee to go to Los Angeles, but Ramsay wanted Lee to pick up Asian and Japanese influences. 'I held my hand up and said it wasn't my thing and then luckily the offer to work here came up."
It's true to say that pre Lee, the Pont wasn't enjoying much of a reputation for its food." "No, not at all," he agrees. 'I came down to have a look and I've got to say that I didn't have the best meal when I came in but I thought there's so much potential to just redo it again." So, I ask, you were being asked to take control and fight against what was perceived to be a bad restaurant? He laughs, 'Yes. But it's what you make of it, isn't it?" And the general feeling that Lee has made a very great success of it.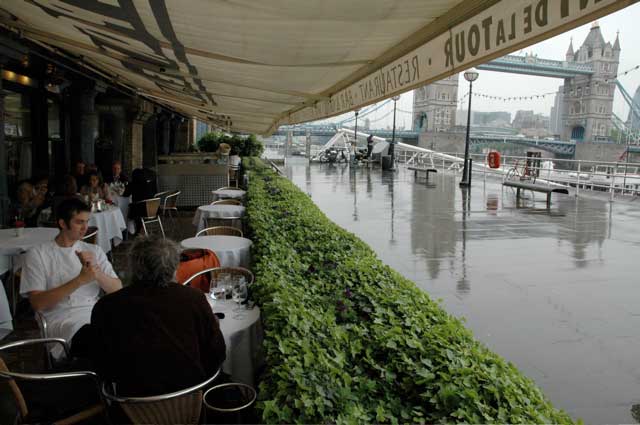 Not that success hasn't come without making changes. 'The mentality in the kitchen," Lee cites as the first thing he had to tackle. 'They were taking a break at 11 o' clock, sitting down for half an hour, coming back at 11:30, regardless of what they had left to do for the week. Then every day they'd go on a break at 3:00 and come back at 5:30 for dinner. That couldn't continue. I brought some people with me and I brought some people on since and the mentality with these guys is that we work. We go on a break, yes. Like now, we go on a break if we're able. We get the job done first though. I'm trying to lead by example. I'm doing 89 hours a week and the other guys are on shifts and they're probably doing about 60 max. So, nobody can turn around and say, 'Well, the chef's not doing it' because I'm in there doing more hours than anybody!"
Lee is passionate about commitment from his young team. 'What always winds me up whether I'm working up north or I'm working down here,' he says, 'is someone saying, 'Oh, it's just a job. It's just a job.' You can get a job anywhere!, This demands more commitment than just turning up!'
Refreshingly Lee is also happy to admit mistakes, as in the case of the crustacean bar at Pont de la Tour. His plan was to get rid of it, but then he had second thoughts. 'It's not my kind of thing, 'he admits. 'But there were so many people who loved it. They were coming here loving it and I thought, well, wait a minute, if there's so many people who still want it, who am I to say that they can't have it?" Who indeed.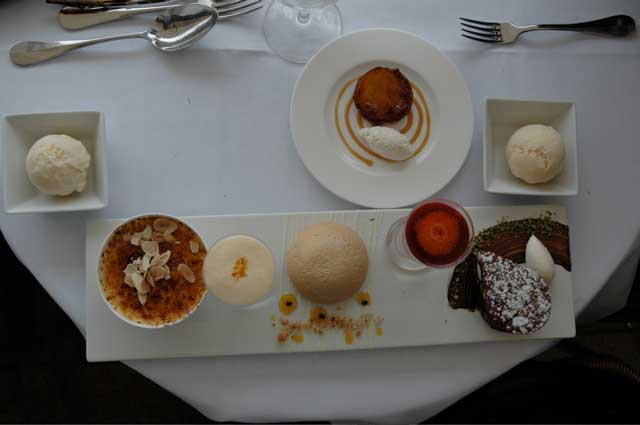 The new owners DAND have supported him totally to the extent of spending serious money on a new crustacean bar. 'Oh that has so proved its worth,' he says pointing along the tables. 'Last Friday, when we had a really hot afternoon, all you saw along this table were fruits de mer and everyone digging in. We're hoping for a really good September and a slightly mild October, so we can keep this running at least until the middle of October."
He's not embarrassed about the high prices at Pont either. 'That other thing, about it being expensive? I want people to have value for money. I said to the new owners, 'it doesn't matter how much you charge for the food, just so long as it's, A, consistent and, B, it's hot, it's value for money and it's tasty." He's also keen to make the Pont all-inclusive with excellent Sunday lunch deals for the whole family and even some colouring books to keep the kids happy." Sunday lunches have always been a big thing for me and done correctly I know they can be a success," he says firmly.
And, as we gaze out into the murky rain-filled mess this day has now become, Lee prepares to go back to the kitchen to prep for the evening. He gestures good-naturedly at the low sky. 'We have to look at the weather report. We have to. We have to really focus on the weather report every five days, it has so much influence here."
Well even on a grey day his focussed and assured cooking is a ray of sunshine in the area and under his direction the Pont de la Tour should soon be once again a leading destination restaurant in London and definitely one with the best view.