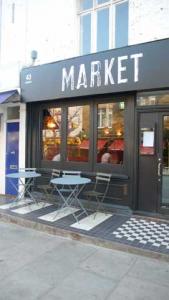 Sitting across from the elegant Denise Tang, it's obvious to see where Market gets its effortlessly chic aesthetic.
Along with Head Chef and business partner Dan Spence, the duo have transformed the way that diners think about the Camden's food scene. Before Market opened in 2007 eateries in the borough were divided between a vast array of inexpensive fodder and the theatrical extravagance of Gilgamesh.
As Tang said: 'There's no restaurants like ours in Camden, it's cheap eats mostly. Lots of people used to feel like they had to go up to Primrose Hill for dinner. We felt we could bring something different."
Everything at Market seems to fit so well. The mood of the restaurant, the location and of course the food, are all spot on. But Denise is keen to play down their zeitgeist surfing credentials: 'I left London in 1998 and when I came back after 5 years there had been this explosion in the restaurant scene. We opened as a British restaurant and of course that cuisine is now coming to the fore."
The food at Market is a real joy for any native, or visiting Anglophile. Odds and ends from the best beasts are transformed into sumptuous slow roast, fantastic pies and heart-warming stews. That isn't to say that Denise wanted to become St John a la Camden: 'We know that offal is becoming popular, but when you're using cheap cuts of meat it's important to make things fun and interesting. Our cuisine is nostalgia cooking, it's comfort food produced to a very high standard." Anyone who has ever tried Market's slow roasted pig's cheeks will certainly know what Denise is talking about. But the menu doesn't cater exclusively to carnivorous tastes, the British shoreline too plays an active part in proceedings, with lemon sole and haddock calling to mind the best of our native waters.
Still, amid all this bulldog waving and flag petting, I put it to Denise that if you look down the menu at Market, you'll find some things that aren't very British at all.
'We'll we'd like to think of ourselves as a British restaurant but I see what you mean. We serve gnocchi, risottos, you'll even see some Thai style broth's on the menu. It's all dependent on how Dan and his team can maximise the ingredients we have available."
In that regard Market is much more a London restaurant than it is a British one. The menu mirrors the city, at its core a look and feel of British nostalgia, with off-shoots of other cultures being reflected in unique perspective.
Market
43 Parkway
Camden Town
London
NW1 7PN