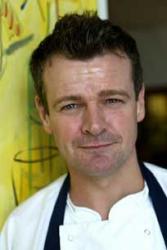 Chef Roy Brett is so excited by his latest venture that he can hardly sleep. Named 'Ondine' after the water sprite who marries a mortal in Sir Frederick Ashton's ballet, the 80 plus cover seafood bar and restaurant opens soon. Neighbour to the first haute couture hotel from 'Missoni', it has striking, wraparound views of Edinburgh's old town through plate glass.
Amidst the piercing sound of a jigsaw and a frenetic squad of operatives, Brett took me on a preview tour, starting in the kitchen of course. Having been described by fellow chefs as 'old school', I was unsurprised to see the final trim added to the impeccably tiled walls – 'preferable than plastic panels'. More couth than an afterthought portable radio, a thick wire rig is part of the Bose sound system Brett intends to 'keep my chefs happy'. Considering the hotel has meeting rooms above, a vast extraction hood has been designed to operate as quietly as possible. Despite the fact that its application to Brett's menu is yet to be defined, he joked that his slow cooking, water bath will be 'good for my feet.'
A contemporary of Mark Hix, who taught him the beauty of a simple plate, Brett has spent 23 years in the business, most recently as chef director for high profile hotelier, 'Dakota'. For 'The Grill' at Forth Bridge he won Best Seafood Restaurant in Scotland, simultaneously achieving Scotland's Hotel Chef of the Year. He previously oversaw Rick Stein's operations in Padstow, Cornwall.
Drawing on 'the best larder in the world', offerings will range from humble but impeccable fish and chips to lavish monkfish tail curry for two, lobster Thermidor and what has in other venues become a 'legendary' offering, the fruits of the sea platter. Inspired by a recent holiday to Sicily, dishes such as gnochetti, fresh grilled octopus and sea urchin spaghetti will also appear. Fish will be served head-on unless otherwise requested. Suppliers include fourth generation fishmonger, Gary Welsh amongst a network of 'little stars' known closely to Brett.
In the dining room, a mural inspired by Rupert Murray's film, 'The End of The Line' will adorn one of the few expanses without windows. Emphasising Brett's lack of pretence, tables will be left unclothed, with a wide, horseshoe shaped counter inspired by Le Caprice and J. Sheekey ensuring that there are only good views for bar diners.
Brett is extremely upbeat, believing that his philosophy of child friendliness, micro sourcing and sustainability, and all-day versatility offers something different for Scotland's capital city. 'Ondine' also signals his confidence in a country which he loves so much that he even admits to have 'missed the wind and rain' when in Cornwall with Stein…
'Ondine' – George IV Bridge, Edinburgh
Open 7 days a week from mid September