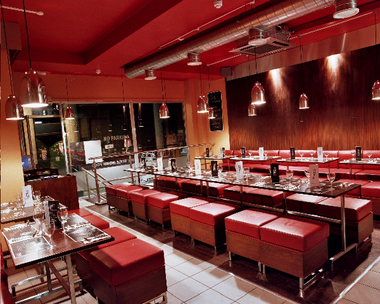 If your bank account is looking a little bare after you've spent your hard-earned dough on Christmas, that might not mean you have to quit restaurant eating until spring. Chowki and The National Café have some great deals up their sleeves waiting to help you out!
£10 Chow Down at Chowki this January
Chowki, Soho's authentic regional Indian restaurant, is celebrating the arrival of 2009 with a hot January offer. Paying attention to your pennies, Chowki is offering a two-course lunch or dinner for the incredible price of just £10. Explore some of India's regional dishes thanks to Executive Chef Kuldeep Singh whose menu explores over 27 of India's culinary regions. Simply pick from the a la carte menu with dishes ranging from char-grilled Delhi chicken and Punjabi samosas to mains of Keralan prawn curry, Lucknow lamb korma and Hyderabadi chicken curry.
When the West End seems like a whirlwind of choice, Chowki offers authentic, home-style Indian cuisine.
Visit online at www.chowki.com
Dine out for £10 at The National Café
Easing your credit crunch worries, The National Café has come up with a fabulous new £10 dinner menu.
For just a tenner, visitors to Oliver Peyton's renowned café can enjoy a seasonal British meal along with a glass of wine. Offering a different daily special each day of the week, diners can choose from a menu of stews, hearty pies and gourmet burgers. All dishes are accompanied with the choice of a glass of les Vignes de L'Eglise Grenache Chardonnay or Grenache-Merlot.
Designed by internationally renowned architect David Collins, The National Café is modelled on a traditional Viennese café. The modern European menu is packed with flavoursome and comfortingly familiar dishes.
Visit online at www.thenationalcafe.co.uk