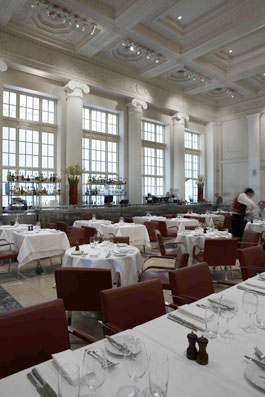 Coax away the chill this month with a fortnight feast of quality Scottish food and drink from Monday, 19th until Friday, 30th January. Including toasty hot toddies in the Prism Bar, special whisky cocktails and most of all, a fantastic tasting menu devised by Head Chef Richard Robinson in order to celebrate the best of Scottish produce. Richard's tasting menu will be accompanied by whisky, specially selected by whisky creator and master blender Rachel Barrie.
Rachel Barrie is one of a small number of female Scotch Whisky experts and master blenders. From 1991, when she started her career at the Scotch Whisky Research Institute, where she was the only female scientist in the maturation and blending department, Rachel eventually joined Glenmorangie and over the past
12 years has established the on-site sensory laboratory, created the sensory panel and has been at the forefront of many of Glenmorangie's product innovations.
Priced at £75 per head, the Scottish tasting menu will be available to all Restaurant and private dining customers. To book this fantastic offering, please contact Prism on 020 72563875.
The Best of Scottish Tasting Menu
Whisky chosen by Rachel Barrie, Whisky Creator & Master Blender, Glenmorangie
Arbroath Smokey chowder (Arbroath)
Served with Ardberg Blasda 'this lightly peated Ardberg brings mouth-watering refreshing citrus and floral notesto slice through the smoke"
~
Scottish wood pigeon (Argyle), pickled cabbage, Szechuan spiced samosa
Served with Glenmorangie Lasanta A rich and spicy combination. The rich gamey pigeon gives way to pickled cabbage. The oiliness of Lasanta is a perfect match for the pigeon, its warm spiciness and raisiny tones complementing the Szechuan samosa"
~
Poached Scottish Lobster, scallop tortellini, tempura claw, bisque (Ullapool west coast, Gairloch west coast, Orkney)
Served with Glenmorangie Nectar d'Or 'The silky scallop and velvety lobster are complemented by the tangy citrus notes and melting creamy texture of Nectar d'Or"
~
Aberdeen Angus Beef fillet (Aberdeen), fricassee of truffle gnocchi, ceps and crosnes, truffle Madeira sauce
Served with Ardbeg Uigeadail 'The richness of the beef and truffle sauce is enhanced by Uigeadail's powerful multi-layered tones and full-bodied mouth-feel"
~
Sherry truffle, Scottish heather honey and whisky Brûlée oatmeal short bread
Served with Glenmorangie 18 Years old A perfect way to end a meal – Glenmorangie 18 year old's profile of melting honey, creamy malt and aromatic florals heightens the appeal of this delicious dessert"
Tasting Menu £75 per person