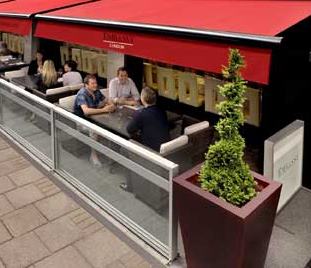 To help diners deal with a roller coaster economy "Credit Crunch" lunches are popping up in fine restaurants all across London. The latest venue to offer customers a discount is the Embassy London in Mayfair. Diners will receive ten percent off the usual a la carté and group dining menus.
The Embassy Credit Crunch Lunch menu will be prepared under the supervision of three times Michelin starred chef Garry Hollihead. You'll still find yourself enjoying the same elegant meals the Embassy is known for, but your wallet won't feel as light afterwards, and the discount will nearly pay for your tip.
On the menu, you'll happily choose from Tagliatelle of Cornish Crab served with Chili, Coriander and Crème Fraiche, Roast Monkfish and White Bean Cassoulet, and Carpaccio of Venison with Pickled Red Cabbage, Honey and Shallot dressing.
"By using dishes from our usual menu in the Credit Crunch Lunch offer," said owner Mark Fuller, "we are ensuring that we don't compromise on the quality of the food. We've simply found a way of offering people some compensation for the financial problems they've encountered during the credit crunch."
Mayfair's Embassy is known for its modern European food, al fresco terrace, and stylish décor. Embassy is one of the few venues in London to still offer sophisticated dinner and dancing.
Opening Hours: Monday to Saturday for lunch from 12pm until 3pm. Monday to Saturday from 6pm until 11.30pm for dinner (open 5pm)
Embassy – 29 Old Burlington Street, London, W1S 3AN.
Bookings 020 7851 0956, or visit online at www.embassylondon.com