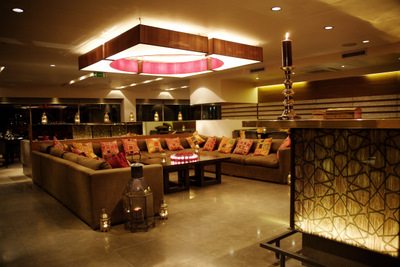 If you want to save the chequered tablecloths and candles stuck in bottles of wine for a spring movie date, plan something more grown up for Valentine's at Fakhreldine in the nation's capital. One of London's favourite Lebanese restaurants is laying out a lovers' feast to include roasted prawns, kafta skewers, sea bass fillets, lovely saffron rice, and Halawat el Jibn, a cheese and cream of milk dessert, topped with strawberry and honey flavoured with zalou, Lebanon's legendary aphrodisiac root. While enjoying your meal in a sparkling, romantic setting overlooking Green Park, you will sip from a bejewelled bottle of Love H2O from Wenlock Springs.
Head Chef, Youssef Harb, will start your evening with a glass of chilled champagne, before you and your partner share a selection of Mezzé including roasted prawns with sesame; Mohammara (spicy walnut and red pepper dip), Kibbé Miklieh (ground beef and cracked wheat shells stuffed with minced meat, onions and Pine Nuts), Makanek (bite-size spicy lamb and beef sausages) and falafel.
Diners can then choose between Mixed Grill of Taouk, lamb cubes and kafta skewers or exotic fish skewers comprising a selection of Jumbo shrimps, sea bass fillets and red mullet fillets roasted and served with ratatouille and saffron rice. This delicious feast is rounded off by Halawat el Jibn.
The cost of this menu is £150 per Valentine couple. The evening will also feature a programme of live music performance. Visit online at www.fakhreldine.co.uk