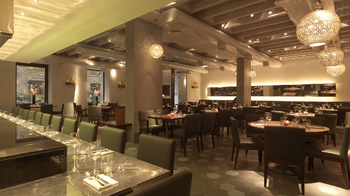 Figuring out where to take your sweetie on Valentine's Day is a tough decision to make in a historic city filled with the best cuisine from every corner of the world. To help you make this romantic evening one to remember for many years, Foodepedia has put together an offering of the city's most romantic menus offered by some of London's finest, well-known chefs.
Spice up the evening at Cinnamon Kitchen
Cinnamon has long been thought of as a healing spice beneficial for many ailments but did you know it was also an aphrodisiac? According to www.natural-aphrodisiacs.com a French recipe for an aphrodisiac wine is a combination "of cinnamon, vanilla, rhubarb and ginseng." Here in London at Cinnamon Kitchen, Chef Vivek Singh has crafted a spice-infused five-course menu revealing his passion for pushing culinary boundaries.
On 14th February, diners will be greeted by a complimentary lychee and rose petal martini before savouring imaginative dishes including an amuse bouche of wild mushroom and almond soup; an appetiser of king crab claw with Goan spices; and starter of char grilled swordfish with chilli and lime. The main course of braised leg of Pyrenean milk fed lamb with dates and apricot biryani rice is accompanied by a choice of sides whilst a dessert of dark chocolate fondant, banana and passion fruit sorbet, and stem ginger parfait completes the meal. There is a vegetarian menu available for those non-carnivorous amongst us.
At £60 per person, the Cinnamon Kitchen's Valentine's menu is guaranteed to ignite flames of passion in the City. Visit online at www.cinnamon-kitchen.com or tel: 020 7626 5000 for bookings and the full menu.
A Malaysian recipe for love
Awana on Sloane Avenue is offering a fortnight of romance from 9th – 22nd February with a specially created 'recipe of love' menu, courtesy of executive chef Mark Read. Highlights from the three-course menu include starters such as organic grilled salmon marinated in Malaysian spices; Alaskan king crab steamed with shredded ginger and lemongrass; and pomelo and sour mango salad with a tamarind sauce. Mains range from stir-fried monkfish with king oyster mushrooms and shallots in a fresh peppercorn sauce; to barbecued guinea fowl with sweet pickled vegetables and corn fritters; and tender beef rib in a rich spicy tomato sauce with red onion and okra. Delicate desserts include champagne and strawberry agar-agar jelly; house-made green tea ice-cream; and stem ginger and coconut tuille biscuits.
To accompany the menu, Awana has also concocted two Valentine's cocktails. The alcoholic 'recipe of love' mixes ciroc vodka, mascarade liqueur; fresh watermelon; fresh mango and strawberry syrup. The non-alcoholic 'happy ending' combine fresh strawberry, fresh mango, fresh passion fruit and strawberry syrup.
Awana's 'recipe of love menu' is available on 14th February for £48 per person. The menu can also be enjoyed from the 9th – 13th & 15th – 22nd February for £38 per person. For bookings visit online at www.awana.co.uk or call 020 7584 8880
Valenthai at Mango tree
At Mango Tree executive chef Mark Read has created a romantic sharing menu for doey-eyed diners who love fine Thai cuisine. Love birds will begin with a sharing platter including deep fried marinated cod wrapped in pandan leaf; lamb ribs coated in a rich char-sui style sauce; baked corn-fed chicken with noodles wrapped in a spring roll; and spicy shredded green papaya with chilli, cherry tomato and peanut salad.
A flirty pink champagne sorbet cleanses the palate, while mains include tiger prawns with black pepper sauce, okra and sweet peppers; barbecued marinated monkfish with pickled mustard greens and pak choy; and flamed strip-loin beef slices with brandy, shallots, galangal and oyster mushrooms. Sweetening the mood are desserts of champagne and strawberry jelly; homemade green tea ice cream, or stem ginger and coconut tuille biscuits. Mango Tree's Valentine's menu is available on 14th February 2009 for £55 per person. The menu can also be enjoyed without the sorbet from the 9th – 13th & 15th – 22nd February 2009 for £45 per person.
For bookings visit online at www.mangotree.org.uk or call 020 7823 1888.
Roses for the damsels and ginseng for the dames at Albannach
Located in the heart of London, Albannach, a favourite Scottish restaurant and bar is turning down the lights for an evening of fine food and sensuous jazz. To get you in the mood, the elegant venue will be decorated with red roses and thistles, with a corsage presented to each lady, and a thistle lock to her beau. The four-course Valentine's menu begins with an aphrodisiac amuse bouche of Scottish rock oysters with Hendrick's gin and cucumber jelly, followed by your choice of roast quail and celeriac rémoulade; or a trio of hot-smoked, tartare and mousseline Scottish salmon.
Reputed to enhance virility, ginseng is married with grapefruit and Albannach malt whisky in a palate cleansing sorbet ahead of the main course. Meat lovers will enjoy loin of Highland venison, potato purée, whisky braised shallots and young spinach leaf; with red sea bream and seafood broth as an equally tempting alternative. Bringing you both closer together, a dessert of 'old alliance' tarte tatin with milk chocolate and 10 year old Ardbeg ice cream is yours to share.
Diners are seated at 8.30pm with romantic numbers courtesy of a live jazz band from 9pm, who will be picking up the tempo later for dancing into the night. Tickets for this very special evening are just £55 per person, with an early bird menu from 5.30-8pm available for £35.
No Date? No worries. Speed dating downstairs in Doon.
As an alternative, those looking for a fun evening out with friends can enjoy the Valentine's Traffic Light Nights in Doon. With a speed dating session from 6pm, Albannach's subterranean cocktail lounge bar will then open for a night where red clothing means you are taken, amber is for those flirting and green wearers are looking for love. Tickets are £10, with free entry to any inquisitive diners from the early dinner sitting upstairs at Albannach. Visit www.albannach.co.uk or call 020 7930 0066 for bookings.
Cupid aims his arrow over Avalon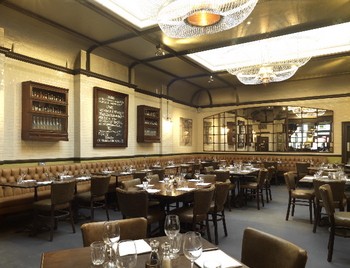 At The Avalon in South West London you'll sit beneath glittering his'n'hers chandeliers and enjoy a five-course Valentine's feast. After a tantalising amuse bouche, your choice of sensuous starters will include fin de claire oyster with shallot sauvignon vinegar and blood orange champagne soup. A martini sorbet will be followed by extravagant options such as wagyu ribeye steak with Époisses de Bourgogne dauphinoise and watercress; and confit venison with baby vegetables. Desserts to linger over will include decadent chocolate fondant; and roasted pear with hazelnut and crème fraiche.
At just £39 for five courses and with a wide selection of sensibly priced wines, beers and cocktails, this is an affordable luxury your true love deserves. For bookings visit online at www.theavalonlondon.com or call 020 8675 8613