Serves: 6 Preparation time: 15 minutes cooking time: 20 minutes, plus cooling 2 hours
chilling time: overnight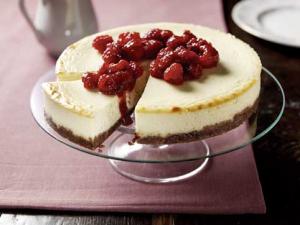 Ingredients
125g light digestives
100g After Eight mints (12)
25g reduced fat spread
600g light or medium fat soft cheese
100g golden caster sugar
1tsp vanilla extract
125g fat free (0%) Greek yogurt
2 medium eggs
To serve, 100g fresh raspberries
1tbsp raspberry jam
Method
Lightly grease a deep 20cm cake tin with a removable base. Preheat the oven to 180ËšC, 350ËšF, Gas Mark 3.
Whizz the biscuits and the After Eight mints in a food processor, to make fine crumbs. Melt the low fat spread and add to the crumbs, until the mixture comes together. Tip into the tin and press down firmly to make a neat, base crust.
With an electric whisk, beat the soft cheese, sugar and vanilla together in a large bowl and then add the yogurt, and the eggs, one at a time. Mix until well blended.
Stand the tin in a roasting dish and pour the filling over the crumb base. Bake for 20 minutes until it has just set around the edges but is still wobbly in the middle. Turn the oven off and leave the cheesecake in there to cool slowly for a couple of hours: it will continue to cook and this helps to avoid the top cracking, so don't open the oven door.
Refrigerate until ready to serve, preferably overnight.
To serve, loosen the edges of the cheesecake with a spatula and unmould onto a plate. Crush the raspberries lightly, combine with the jam and spoon on top.
Tip
The pure peppermint oil in After Eight mints gives a light mint flavour to the cheesecake crumb. The chocolate helps to reduce the amount of fat in the recipe, as it melts to bind the crumb together. You can use any combination of fruit on top; sliced clementines cut the sweet vanilla filling well.