Serves: 6-8 Preparation time: 10 minutes Freezing time: 5 – 6 hours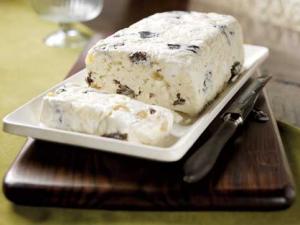 Ingredients
500g good quality vanilla ice cream
12 After Eight mints, coarsely chopped
55g crystallised stem ginger, chopped
100g meringue shells, slightly broken
To serve: grated dark chocolate
Method
Line a deep 23cm x 12cm loaf tin with a double layer of cling film. Put the ice cream into a bowl and break it up slightly with a fork. Add the mint chocolate chips, ginger and meringues and fold together, gently until marbled through.
Press into the prepared tin, level and cover with cling film. Freeze until firm, or overnight.
To serve, invert onto a plate, peel away the film and cut into slices. Decorate with grated chocolate if you like, and serve straight away.
Tip
Take the tin out of the freezer and leave it in the fridge for about 15 minutes to soften up before you slice it. For very little effort involved to make this dessert, it tastes impressive.