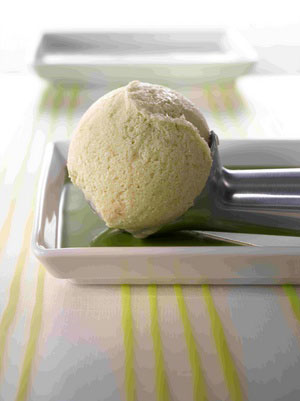 With the sun rumoured to be bursting forth, our culinary inspiration is turning towards lighter, more refreshing food. Desserts which need minimal last minute preparation are the order of the day now (so that we can spend maximum time relaxing, hopefully outdoors, with our friends). Here, fresh from the Fruisana Kitchen, is an unusual and truly delicious recipe for ice cream. By using Fruisana Fruit Sugar instead of ordinary sugar, you will find that the flavours are accentuated and you will also have a slightly softer ice cream, which is easy to scoop and serve.
If you don't have an ice cream maker, simply put the mixture into a large, covered, container and remove from freezer to stir every half hour, until frozen.
A refreshing dessert which would be lovely after a spicy main course
Avocado ginger and lime yoghurt ice cream
Serves 12
2 large eggs
40g Fruisana Fruit Sugar
½ tsp vanilla essence
1 tbsp corn flour
225ml milk
75ml double cream
300ml Greek natural yoghurt
1 ripe avocado
Finely grated zest and juice of 1 lime
2 balls of preserved ginger, very finely chopped
1. Place the eggs, Fruisana and vanilla essence in a bowl and whisk until fluffy. Mix the corn flour with enough milk to make a smooth paste. Stir into the egg mixture with the remaining milk and cream.
2. Place the bowl over a pan of simmering water and cook until a thick sauce forms. Remove from the heat and allow to cool.
3. When cold, mix together the custard and yoghurt.
4. Cut the avocado in half and remove the stone, then remove the flesh from the skin. Mash the flesh to a purée with the lime juice.
5. Stir the lime zest and ginger into the yoghurt, together with the avocado mixture.
6. Pour into an ice-cream machine and churn to the required consistency, this will take about 25 minutes. Store in the freezer until required. Remove from the freezer about 20 minutes before serving.
Fruisana Fruit Sugar is pure fructose, which is a natural constituent of many fruits and vegetables. Unlike artificial sweeteners, fructose has no aftertaste. As well as being perfect for use in hot and cold drinks, it can be used for all manner of recipes.
Fruisana offers numerous health benefits to slimmers, sportsmen and women, and non-insulin-dependent diabetics. It has a low GI* (only 19), and makes for an excellent recipe ingredient for anyone following a low GI diet.
And once you have mastered this recipe you can experiment with your own. The Fruisana website www.fruisana.com has a host more recipes and welcomes feedback and recipe suggestions. You can also become a Friend of Fruisana for advance news of events and special promotions.
To obtain your free copy of various recipe leaflets from Fruisana, just phone 0800 279 1114 or email information@fruisana.com