Let it (cheese) snow! Yup – Hix Restaurant's Ronnie Murray has created just that, freezing and grating blue cheese to top off a canapé that'll go down a storm…
Baked leek tart with Castello Jersey Blue
Makes 12
Ingredients: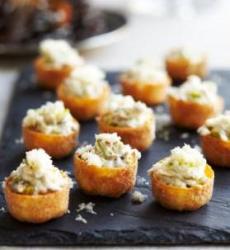 2 medium leeks
200g oyster mushrooms
100g Castello Jersey Blue, cut in half – one portion frozen overnight and the other at room temperature.
250ml double cream
1 egg yolk
12 shortcrust pastry cases or croustades
Butter, for cooking
Method:
Preheat the oven to 180C.
Sweat the leeks in a pan with some butter until soft and silky, then add the mushrooms.
When cooked, add a splash of double cream and melt chunks of the room-temperature cheese into the mixture until thick and glossy.
Season with black pepper and leave to cool for 5 minutes.
Add egg yolk to the mix and stir well.
Spoon the warm mixture into the short crust pastry or croustades and bake for 5 minutes until the top just starts to colour.
Finish with the'snow' just before serving – take the frozen cheese and grate directly over the tart before serving immediately.
 For more information on Castello cheese, visit www.castellocheese.co.uk