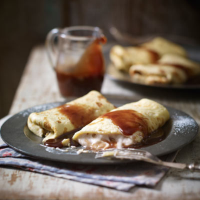 This quick and easy pancake recipe from Waitrose, using Lyle's Squeezy Syrup, is sure to wow the crowd.
Preparation time:15 minutes
Cooking time:15 minutes
Total time: 30 minutes
Serves: 4
Ingredients:
100g plain flour
1 large egg
300ml semi-skimmed milk
Sunflower oil, for frying
2 ripe bananas
1 tbsp Tate & Lyle Icing Sugar, plus extra for dusting
250g tub mascarpone
4 tbsp Lyle's Squeezy Golden, Strawberry or Chocolate Syrup, plus extra to serve
Method:
1. Place the flour in a large bowl, make a well in the centre then crack in the egg and add half of the milk. Beat together, gradually adding the rest of the milk to make a smooth batter.
2. Heat a splash of the oil in a non-stick medium-sized frying pan. Add a ladleful of batter and swirl to coat the base of the pan thinly. Cook for 30 seconds or so until golden then turn and cook the second side. Repeat to make 8 pancakes.
3. Mash together the bananas and icing sugar then roughly stir into the mascarpone along with one of the Lyle's syrups (golden, chocolate or strawberry). Divide the mixture between the pancakes, tuck in the edges then roll up neatly. Place two pancakes on each serving plate, dust lightly with icing sugar and drizzle with more syrup before serving.
For a super-speedy result, use a ready-made pack of 8 Waitrose Pancakes.