Getting the BBQ right is never easy but with a little help from Newman's Own your BBQ could be better than the rest. Make your own BBQ fun and tasty and try these  recipes to help you achieve the perfect BBQ just in time for National BBQ Week, 25th– 31st May.
With a selection of sauces, rubs, marinades and dressings from Newman's Own, why not impress your guests with something different by cooking a selection of kebabs, brisket and potato skins using Newman's Own American rubs and sauces.
All the post-tax profits from Newman's Own products go to the Newman's Own Foundation, with over £1million already being donated to a wide range of charities in the UK alone and over £250 million donated worldwide.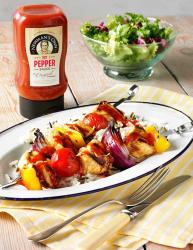 CHICKEN KEBABS WITH HOT PEPPER SAUCE
Serves: 4
Preparation time: 10 minutes, plus marinating time
Cooking time: about 15 minutes
Ingredients:
400 g boneless, skinless chicken breast, cut into 2.5 cm pieces
Grated zest and juice 1 small unwaxed lemon
2 tablespoons olive oil
1 teaspoon paprika
1 yellow pepper, deseeded and cut into cubes
1 red onion, cut into 8 wedges
8 cherry tomatoes
Newman's Own Hot Pepper Sauce
Rice and salad, to serve
Method:
1.       In a large bowl, mix together the lemon zest and juice, olive oil and paprika, add the chicken and turn to coat in the marinade. Season with a little salt and freshly ground black pepper
2.       Cover and leave to marinate, in the fridge for about 30 minutes, or longer if time allows
3.       Thread the meat and vegetables alternately onto 4 long or 8 shorter metal skewers. Preheat the grill or barbecue and cook the kebabs for 10-15 minutes, over a medium heat, turning occasionally and brushing with any remaining marinade, until the chicken is cooked through
4.       Serve with rice, salad and a good drizzle of the Hot Pepper Sauce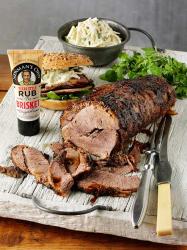 BEEF BRISKET WITH CELERIAC REMOULADE
Serves: 6-8
Preparation time: 20 minutes
Cooking time: about 5 hours
Ingredients
2 kg beef brisket
85 g Newman's Own Texas Style Rub for Brisket
100 ml cold water
For the celeriac remoulade:
450 g peeled celeriac
Juice of 1 lemon
4 tbsp mayonnaise
2 tbsp crème fraîche
2 tbsp Dijon mustard
2 tbsp freshly chopped parsley
6-8 large bread rolls
Watercress
Method
1.       Preheat the oven to 150°C (130°C fan), Gas Mark 2. Stand the brisket in a roasting tin and apply the rub all over the beef.
2.       Pour 100ml cold water into the base of the tin and cover tightly with foil.
3.       Cook low and slow, basting occasionally, for about 5 hours until tender. When tender, cover with foil and allow to rest for 30 minutes.
4.       Meanwhile make the remoulade. Coarsely grate the celeriac or use a food processor to make thick a shred. Place in a bowl and add the lemon juice. Stir in all the remaining ingredients and leave to stand for at least 30 minutes.
5.       As an added extra, place the brisket on the BBQ until browned on each side to give it that great charcoal look
6.       Slice the beef into thin slices and serve in rolls with watercress and a generous helping of the remoulade.
LOADED CHEESY BACON POTATO SKINS
Makes: 16 skins
Preparation time: 15 minutes
Cooking time: about 1 hour 10 minutes
Ingredients:
4 large baking potatoes
Oil for brushing
4 rashers smoked back bacon, cut into pieces
½ teaspoon paprika
50 g mature Cheddar cheese, grated
50 g mozzarella cheese, grated
6 spring onions, chopped
Newman's Own All Star BBQ Sauce, to serve
Method:
Preheat the oven to 200ºC, gas mark 6. Prick the potatoes with a fork and brush with the oil. Bake for 1 hour, until cooked. Cool slightly.
Place the bacon pieces in a frying pan and dry fry, until lightly browned.
Cut the potatoes in half and scoop out the flesh with a spoon, leaving a layer of potato next to the skin, then cut each potato in half lengthways to make boat shapes.
Place on a baking sheet, season with salt and black pepper, then sprinkle over a little paprika. Top with half of the bacon pieces. Mix together the cheeses and spring onions and sprinkle over the potatoes. Top with the remaining bacon. Return to the oven or BBQ and bake for 10 minutes until golden and bubbling.
Serve the skins, drizzled with the All Star BBQ sauce.