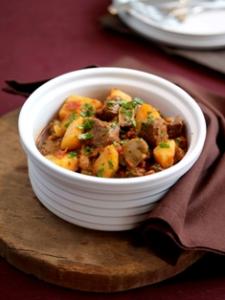 A tasty, warming dish for a chilly day.
Serve 4,
Prep 20 minutes, Cook 2 hours
Ingredients
1 tbsp Olive oil
800g stewing beef, diced
1 Onion, chopped
1 garlic clove, chopped
1 tbsp smoked paprika
100ml red wine
1 x 400g tin tomatoes
1 tsp brown sugar
500ml vegetable stock
200g mushrooms, halved
3 large rooster potatoes, peeled and chopped into chunks
Salt and black pepper
Handful of chopped parsley
Method
1. Heat 1 tbsp oil in a large casserole pan and when hot add the beef and brown of all sides. Once nicely browned remove from pan and put to one side.
2. Add the remaining oil to the pan and sauté the onions until soft but not coloured. Add the garlic and cook for another minute. Return the beef to the pan and add the smoked paprika and red wine. Allow the red wine to reduce and then add the chopped tomatoes and sugar. Pour in enough stock to cover the beef. Place a lid on the pan and cook on a low heat for 1 ½ hours.
3. Throughout cooking check the casserole and give it a slight stir. After 1 ½ hours add the mushrooms and potatoes. Return the lid to the pan and cook for another 20 minutes.
4. Finally remove the lid and turn up the heat, allowing the juices to reduce and thicken slightly for 10 minutes. Before serving season well with salt and pepper and add a handful of chopped parsley.